Analyze the feedback you've collected
Once you've collected your feedback in one place and imported your customers, you're in a great place. Now you can run some queries to figure out who to build features for.
Query Feature Requests by Your Custom Attributes
When Savio imports your customers from Intercom or Segment, Savio also pulls in any attributes attached to the customer or account.
For example, you may have user roles in your app (like Admin or User). And because you want your Intercom reps to know the role of the customer they're talking to, you send role to Intercom as a custom attribute.
In this case, Savio would pull in the fact that you had a custom attribute called "Role", and that you have users with different values for "Role".
You'd see a "Role" dropdown in the filter on the Feature Request page with the list of values that you can choose:


You could then filter your feature requests to see, for example, requests from only your customers with the "admin" role: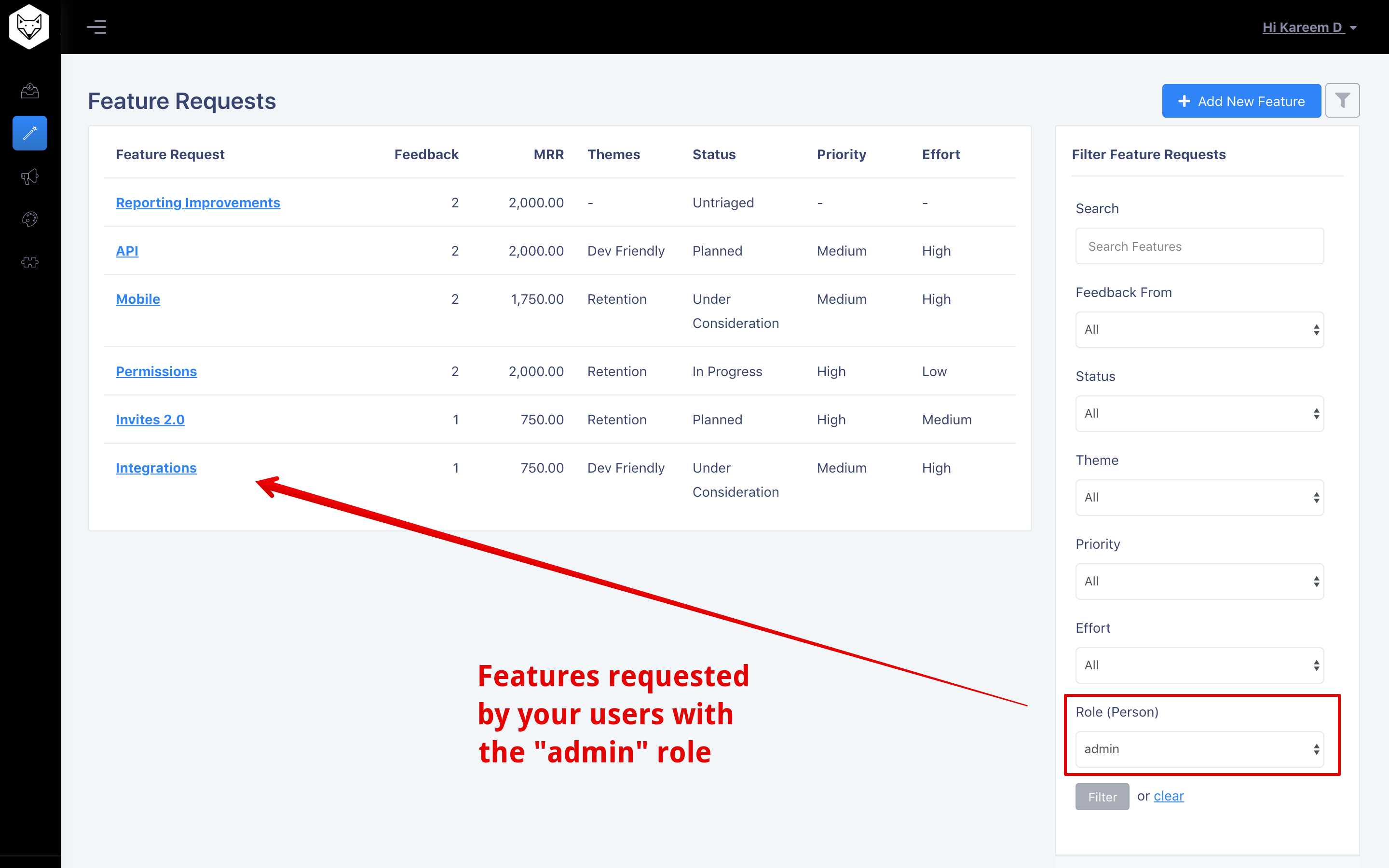 You can filter by whatever you send into Intercom or Segment; Savio pulls in all the attributes you've sent to them. You may want to filter feature requests by customers from a certain geography, whether they're "lighthouse" customers (the kinds of accounts you want more of), how many seats are used in an account, or really anything you can think of.
Savio pulls in all your attributes, but you're able to choose the attributes you want to appear in your filter list. Learn more about using custom attributes here.
Query Feature Requests by MRR
Your customer feedback is not created equal. With Savio, you can filter your feature requests by things like MRR: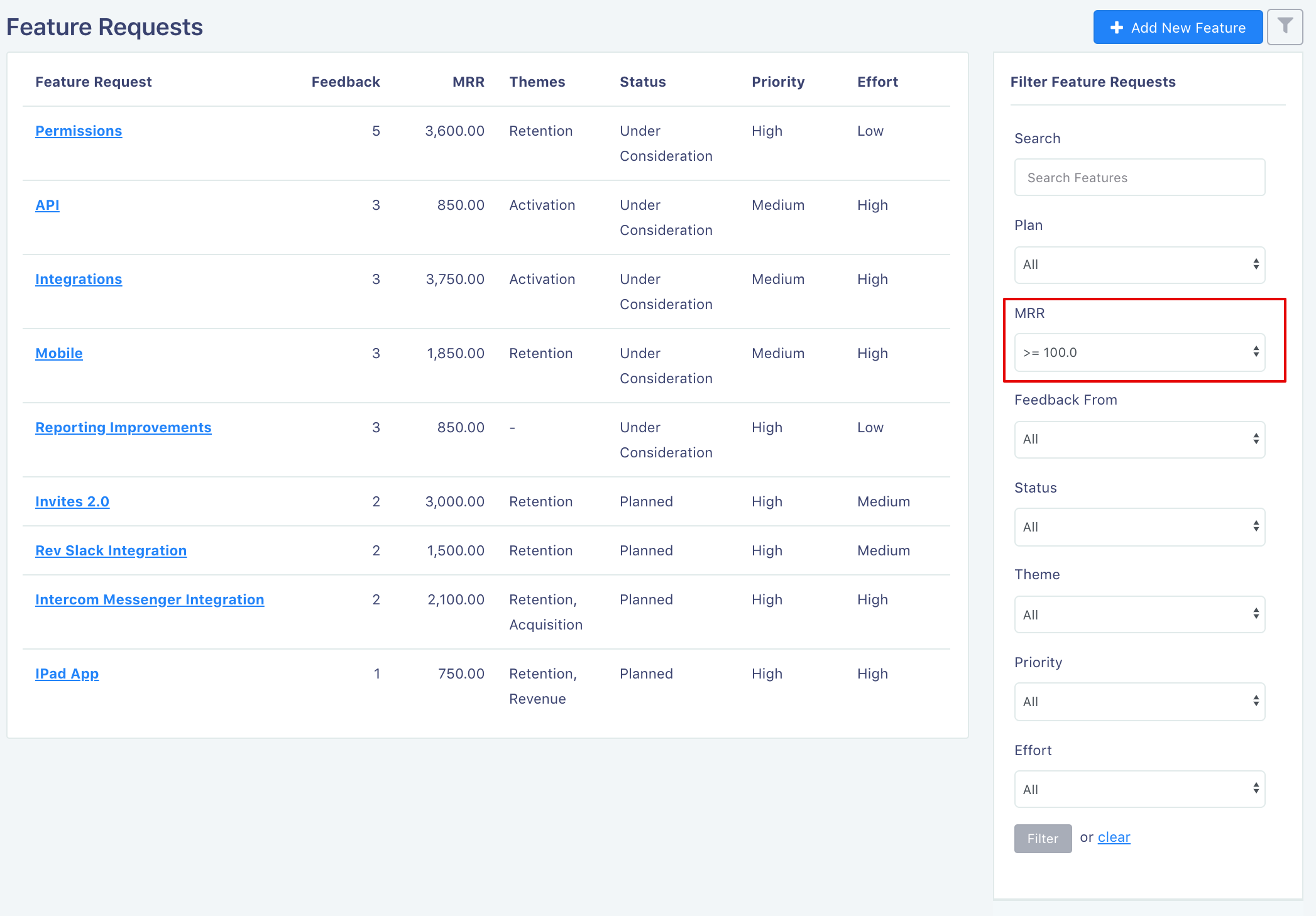 Query Feature Requests by Plan
Or you can see all feature requests from customers on a certain plan: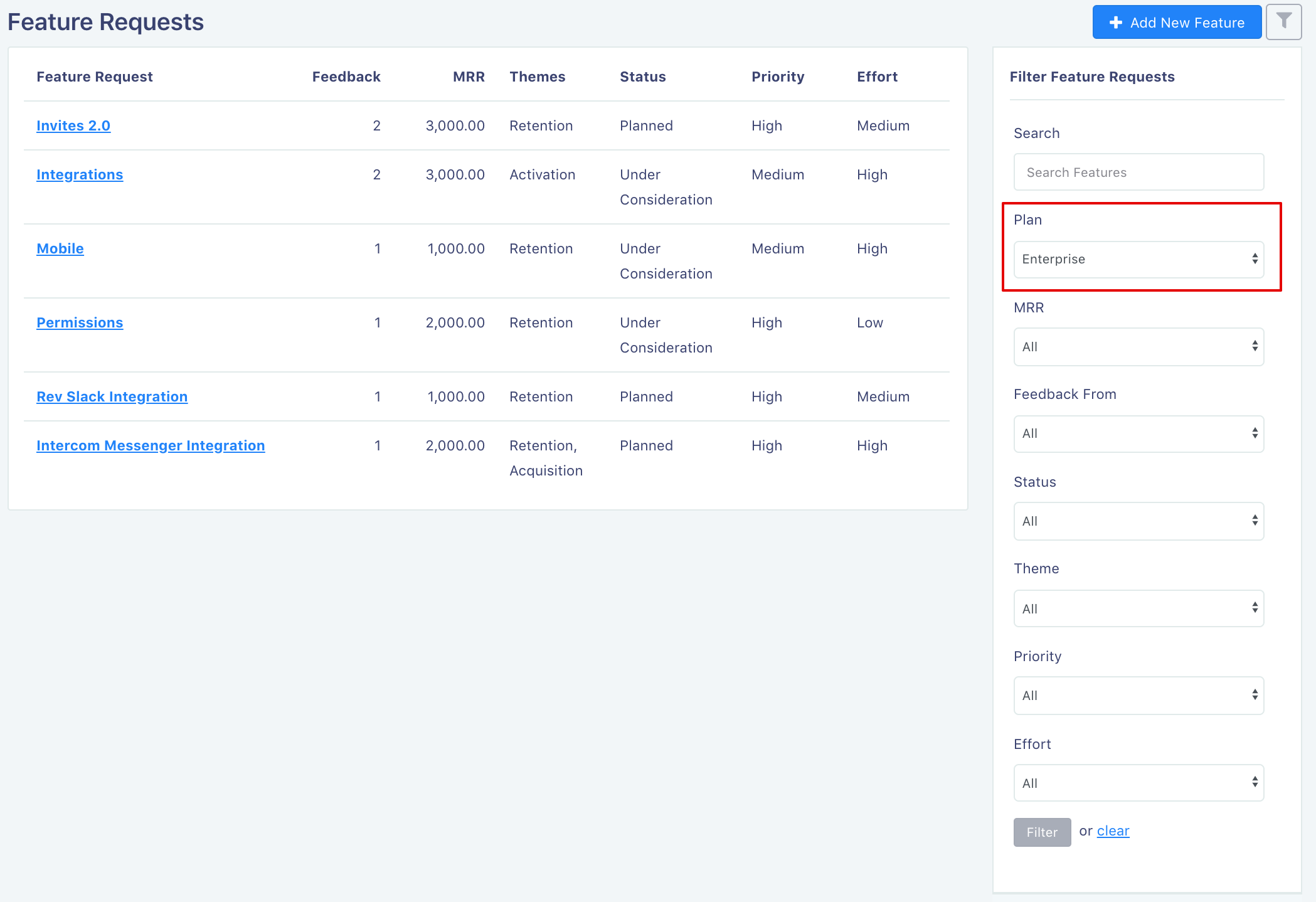 Query Feature Requests by Priority and Effort
Good ol' low-hanging fruit. When you assign priority and effort to your feature requests, you can find the intersection of valuable and easy: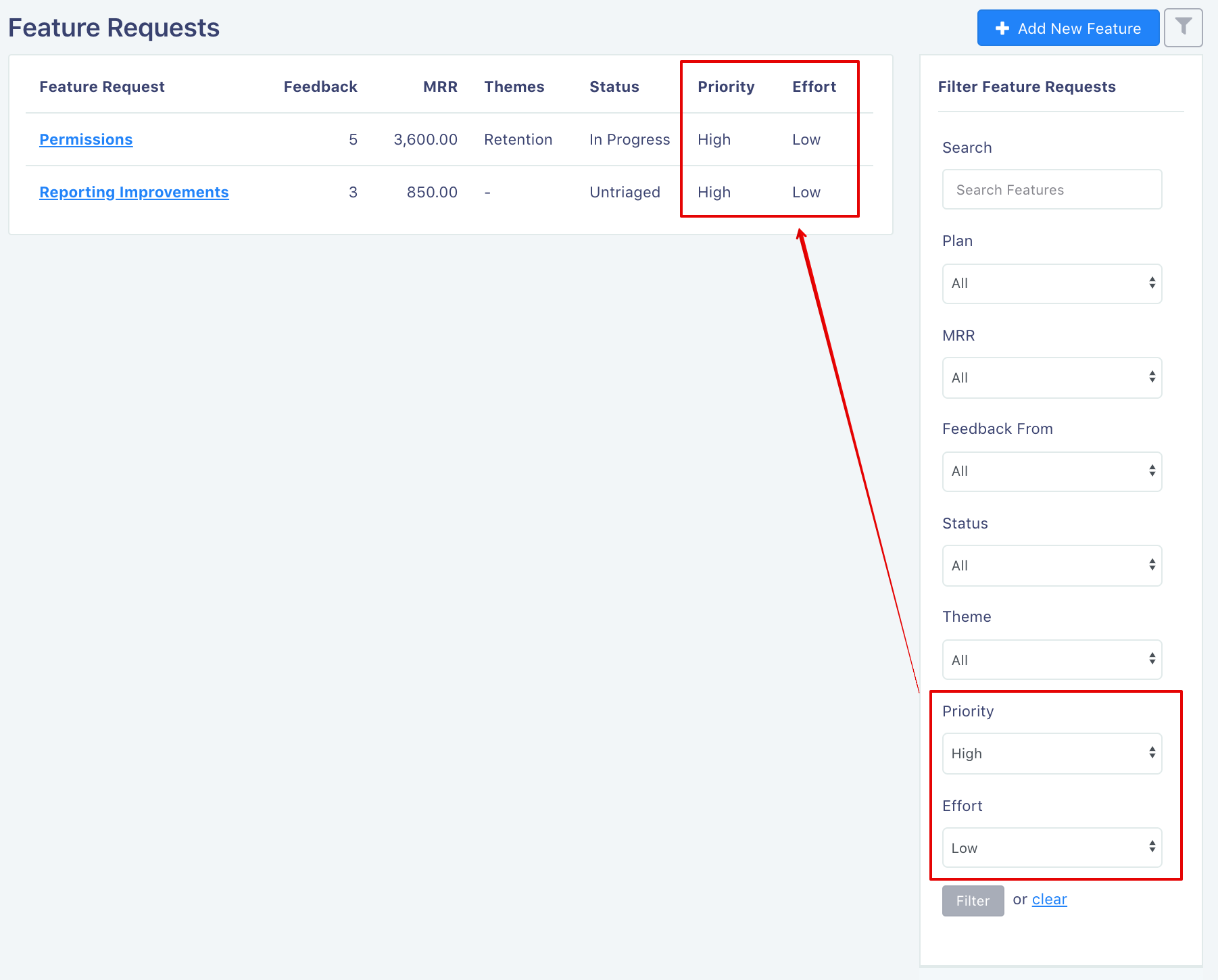 Query Feature Requests from Churned Customers
Because you're recording whether feedback came from a churned customer, a lost deal, a teammate, an active customer, or a prospect, you can easily find feature requests from (for example) churned customers: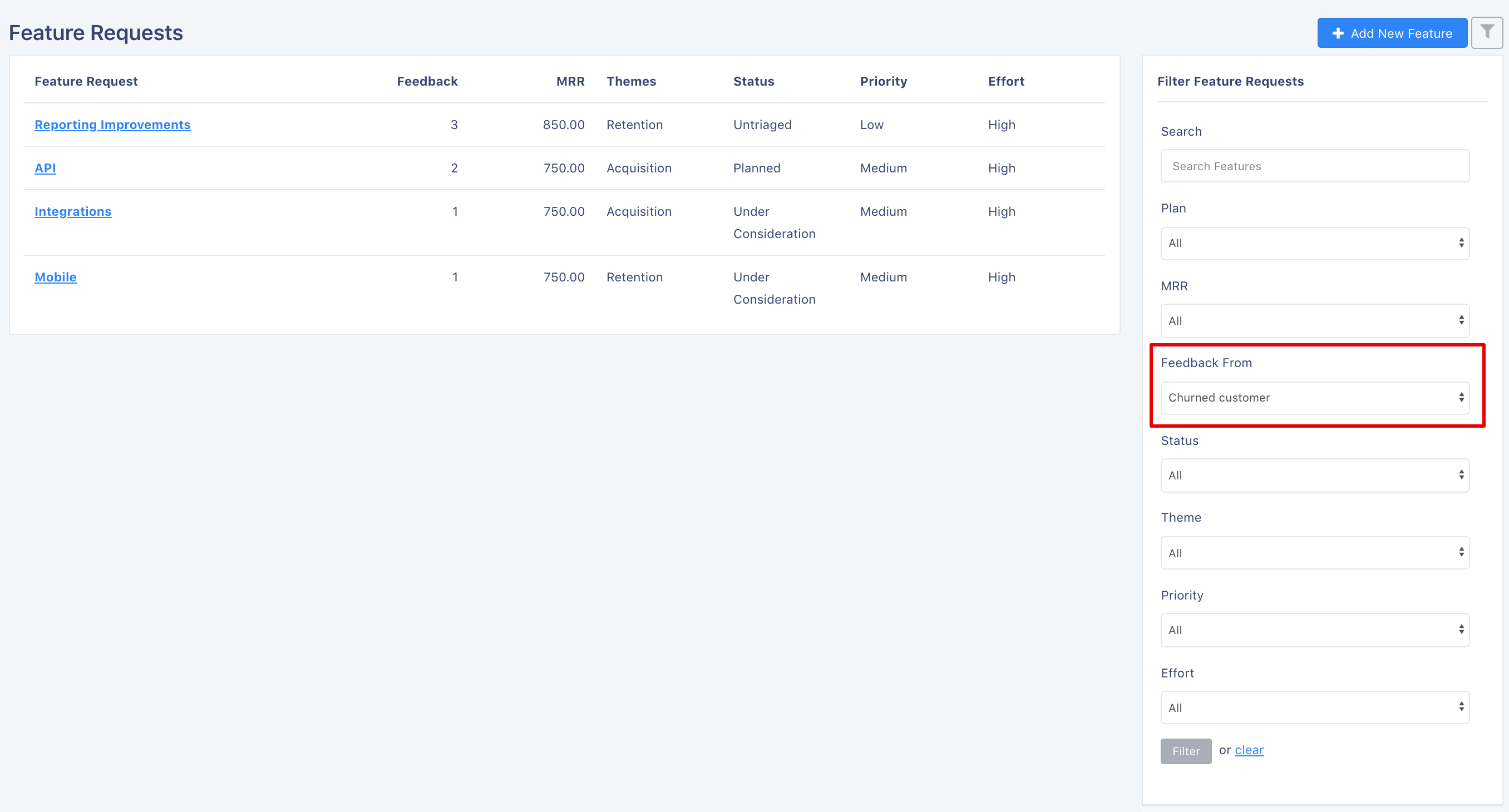 Stack your filters
You can stack filters to find feature requests from people who meet BOTH criteria: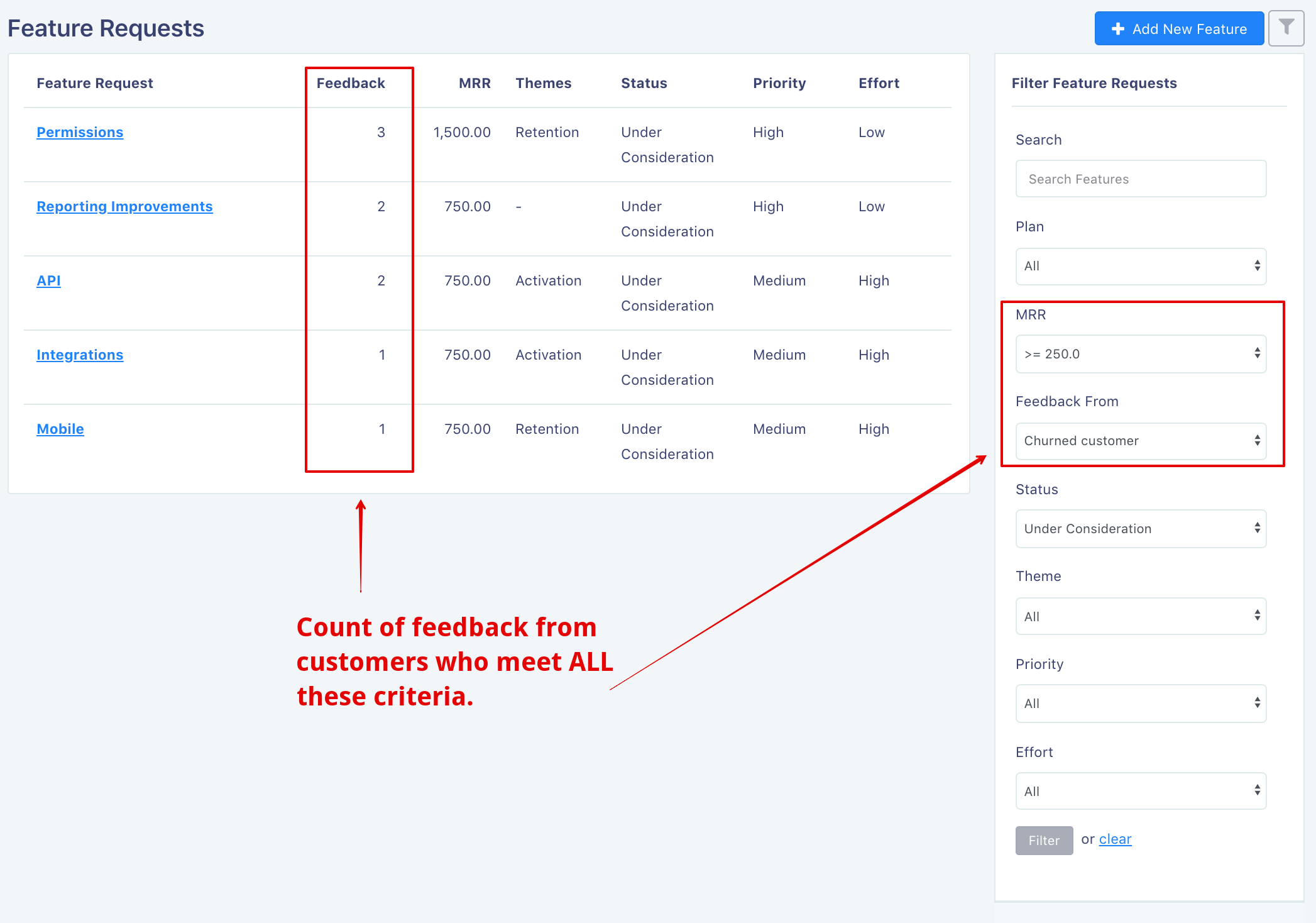 Dig into your feedback
You can dig into the customer feedback about a feature request. You'll see:
each person who's left feedback
their MRR and plan
the specific feedback they left and when they left it
whether the feedback was from a churned customer, a lost deal, an active customer, a teammate, a prospect, or someone else
You can use this information to figure out the surface area of the customer's problem, inform what a good solution would look like, figure out what kinds of users and accounts have this problem, and reach out to customers to validate problem and solution. You can learn more about digging into the feedback for a given feature request here.