Tettra Used Savio to Upgrade Their Customer Feedback Tracking System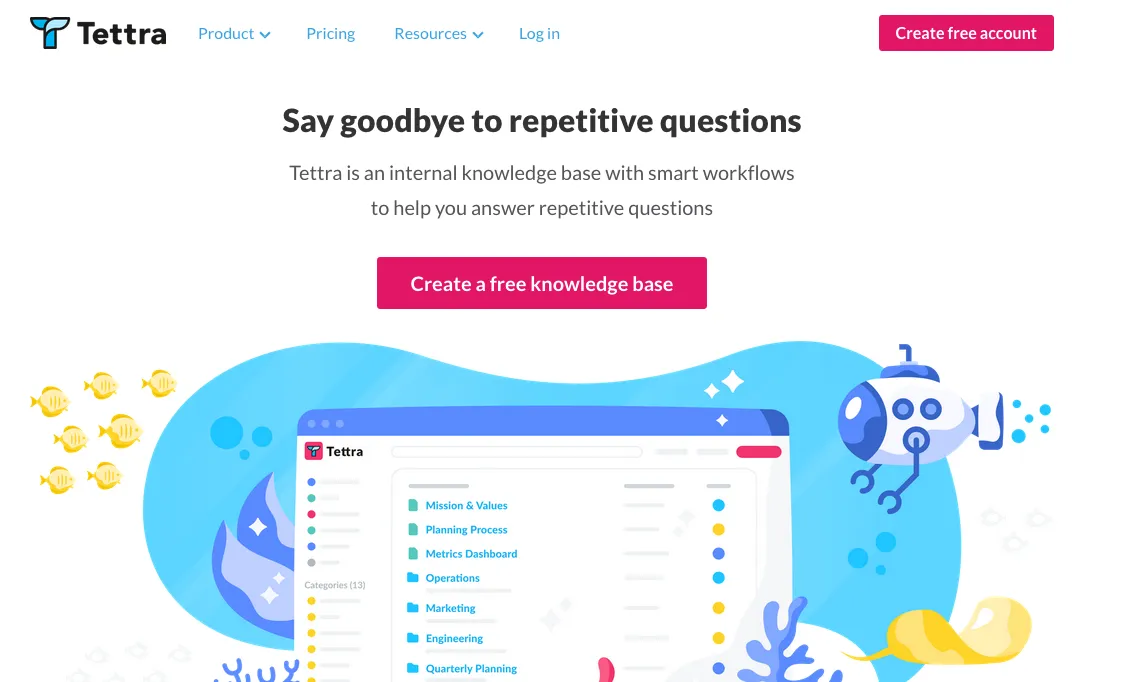 Tettra allows organizations to centralize and share knowledge. Here's how Savio made it easier for them to use their customer feedback to drive their product roadmap.
Tettra already had a system for collecting feedback and feature requests from their customers… but it wasn't flexible enough for what they needed. It couldn't easily tell them which customers needed what, and it took too long to use. Those factors impacted how easily the feedback could inform their product.
Savio made it easy for Tettra to design a customer feedback collection system that worked well: one that saves time and leverages the insights to build what their customers need.
Overview: Tettra helps teams organize their internal knowledge
Tettra is a B2B SaaS company that helps teams manage their knowledge base.
That's powerful: it provides an easy way to onboard new employees, it means junior team members have access to all the information they need, and it means senior employees can spend their time working instead of answering questions.
A solid, accessible knowledge base also helps protect against information silos and ensure that when one employee leaves, they don't take their information capital with them.
Tettra needed a solid system for turning customer requests into shipped features
Tettra works with everyone from digital agencies to law firms, from startups to large corporations. Some of their clients even use their product as a customer-facing information database. The variety in who uses it—and for what—means that they get feature requests from different types of users.
Tettra needed to be able to collect this customer feedback efficiently and organize the data so that it could provide useful product insights.
They originally built a system that started with tagging input from Intercom and interfaced with Zapier, before ultimately collecting the feedback in Airtable. But, while that system worked, it wasn't ideal.
Problem: Tettra's feature request system needed improvement
In the words of Nelson Joyce, Tettra's Co-Founder and Chief Product Officer, their original customer feedback system was brittle. It did what it needed to, but there was room for improvement.
Their previous system was time-consuming
Nelsons said that while it worked okay, their system took significant time to use.
"It was time-consuming to spin up new feedback campaigns since I would have to re-setup the Zapier to Airtable flow with specific Intercom tags, etc."
This is a common problem with customer feedback and feature request tracking systems: if they're not designed well, they can take a lot of time to manage. And in a time-constrained environment, that can often mean that customer feedback doesn't get captured or used the way it should.
It lacked essential but advanced features
Tettra's previous system wasn't powerful enough to optimize how feedback was used.
For example, it wasn't easy to see the total MRR of each customer that had requested a given feature. It also didn't have a way to automatically message clients to let them know when a feature they had requested was built—what we call "closing the loop".
These features take the value of collecting customer feedback to the next level.
Solution: Savio helped upgrade their customer feedback collection system
A simple, organized, fast workflow
Savio integrates with all the tools Tettra already used, so it was easy to set up. It helped put the feedback in a single place and made it easy to use.
Nelson noted that the inbox and triaging approach helped simplify the workflow and that the ability to analyze the data based on customer attributes was really powerful. And, he notes the value of simply keeping everything together:
"I feel like feedback isn't going to be lost or forgotten about."

Savio's triage system makes it easy to process your feedback and link it with feature requests.
Close the loop
Nelson also highlighted the value of Savio's close the loop feature:
"It also helps me notify relevant users when we release new features."
Closing the loop isn't just a way to inform your clients about new features that they asked for; it's also a marketing tool. Closing the loop helps you build a relationship with your clients and show them that you're listening to them. Done well, it can increase sales and reduce churn.
Savio automated and sped up this process for Tettra, enabling them to do it in a few clicks. This helped them squeeze more value out of their feedback.

Savio makes it easy to automatically email your customers when you build a feature they asked for—what we call "closing the loop".
Keeps teammates informed
"It also helps me keep my teammates informed about what users are saying. It's easy to distribute the feedback to my team."
Tettra's product team isn't the only team that's interested in customer feedback. But the previous system didn't make it easy to communicate what customers were asking for to other internal stakeholders.
Savio makes it easy to summarize feature request data. You can sort and filter requests easily by the number of requesters, by the total MRR value of requesters, by where requesters are in the customer life cycle, and more.
That makes it easy to send to other internal stakeholders, justify product decisions, and keep everyone on the same page.

A robust customer feedback collection system makes it easy to justify one product decision over another. Savio makes it easy for your whole team to access the feedback themselves.
Result: Tettra created a better, more powerful way to use customer feedback with Savio
Tettra levelled up their feature request and customer feedback tracking system. That upgrade has had the following benefits:
It saves time. Nelson and the rest of Tettra's product team can now spend their time on other important priorities.

It builds customer relationships. Now that they're closing the loop, Tettra has one more powerful way to demonstrate to clients that they're listening.

Everyone's on the same page. Not only does feedback inform Tettra's product roadmap, but all stakeholders know why.
Savio can make your customer feedback tracking more efficient
Do you want a better way to keep track of your feature requests and make sure you're building what your customers want?
If you're collecting customer feedback (which you should be), you need a place to store, organize, and distribute that feedback. Savio does that really well.
Nelson Joyce
Founder, Tettra
A Product Management Platform
for Customer-Obsessed Teams
B2B SaaS teams use Savio to centralize customer feedback
and create evidence-based roadmaps