The best alternative to Canny to track feature requests
Canny vs Savio: how they compare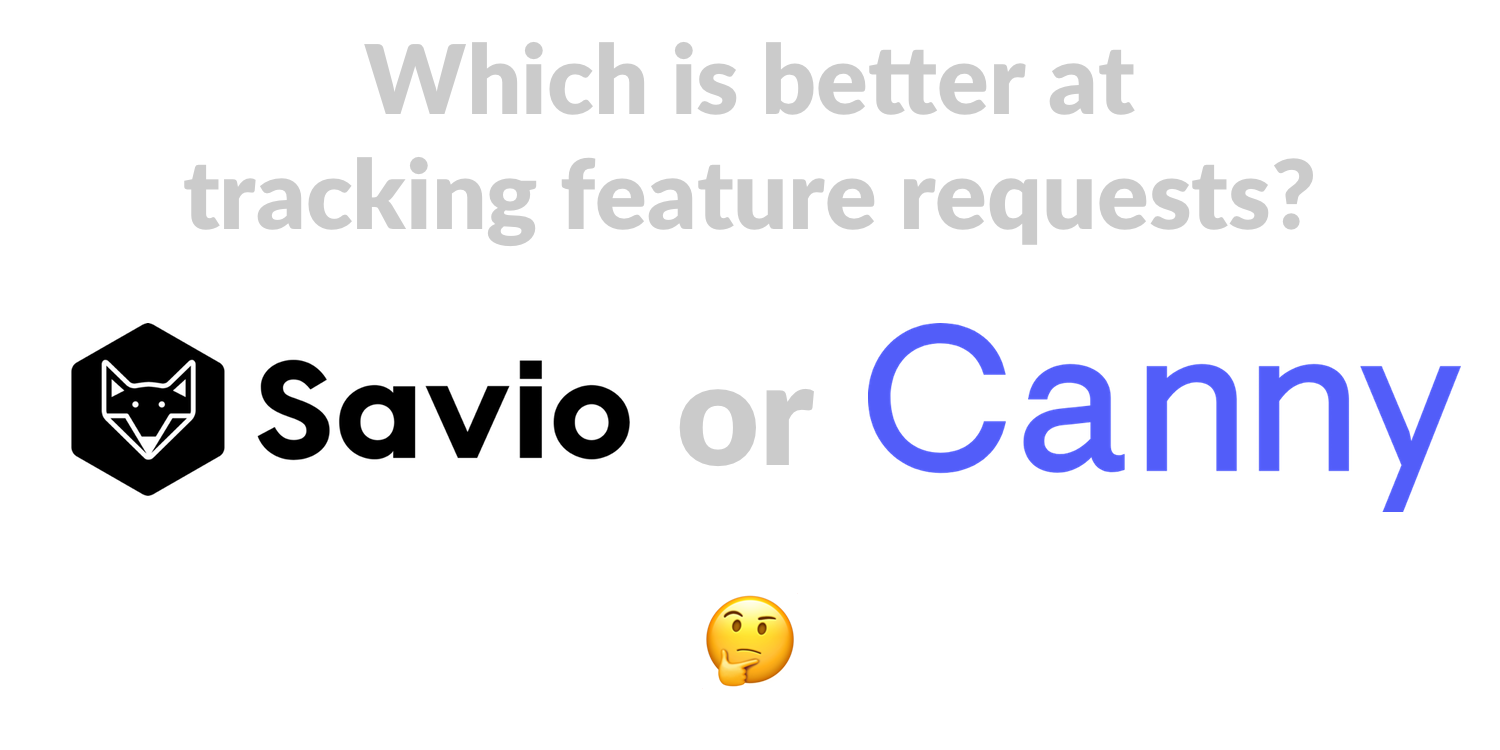 Summary
Both tools are strong at capturing feature requests from Intercom.
Choose Canny if your main requirement is public voting boards.
Choose Savio if you want an inexpensive voting board included with tracking feedback from your other tools.
Read on for the full comparison
Table of contents
See how Canny and Savio compare across these dimensions.
Public voting board
| | |
| --- | --- |
| | Good |
| | Good |
Savio
Savio has a public voting board where customers can see and vote on feature requests. Key differences from Canny's portal include the ability to collect unbiased feedback by hiding upvotes, and displaying features in random order to prevent popular features from getting more popular. Another important difference from Canny: Savio doesn't force you to collect feedback on all your features. In Savio, features aren't public by default. That means you can select the features that you want to publicly collect feedback on while the rest stay private.
Canny
Canny also provides a powerful public voting portal that enables you to collect and discuss feature requests with your community and customers.
Predictable pricing
| | |
| --- | --- |
| | Good |
| | OK |
Savio
Savio is $25/m for three users and $49/m for unlimited. Your fees are predictable, transparent, and capped at $49/month. You can also afford to pay for them with a credit card. You can see Savio's pricing here. Pricing is one reason people love Savio as a Canny alternative.
Canny
Canny charges based on the number of users who vote, leave a feature request, or comment on a feature request. This means that your fees are variable and will only go up: the more users that engage with your board, the more you'll pay. If a user engaged with your board a year ago you'll still be paying for them.
Centralize feature requests from all your tools
| | |
| --- | --- |
| | Good |
| | OK |
Savio
Savio helps you centralize requests from any place your team receives them. This means you can:
Each of these minimizes the disruption to your team's workflow to centralize your feature requests.
Once centralized, you can confidently prioritize your features knowing they're all in one place.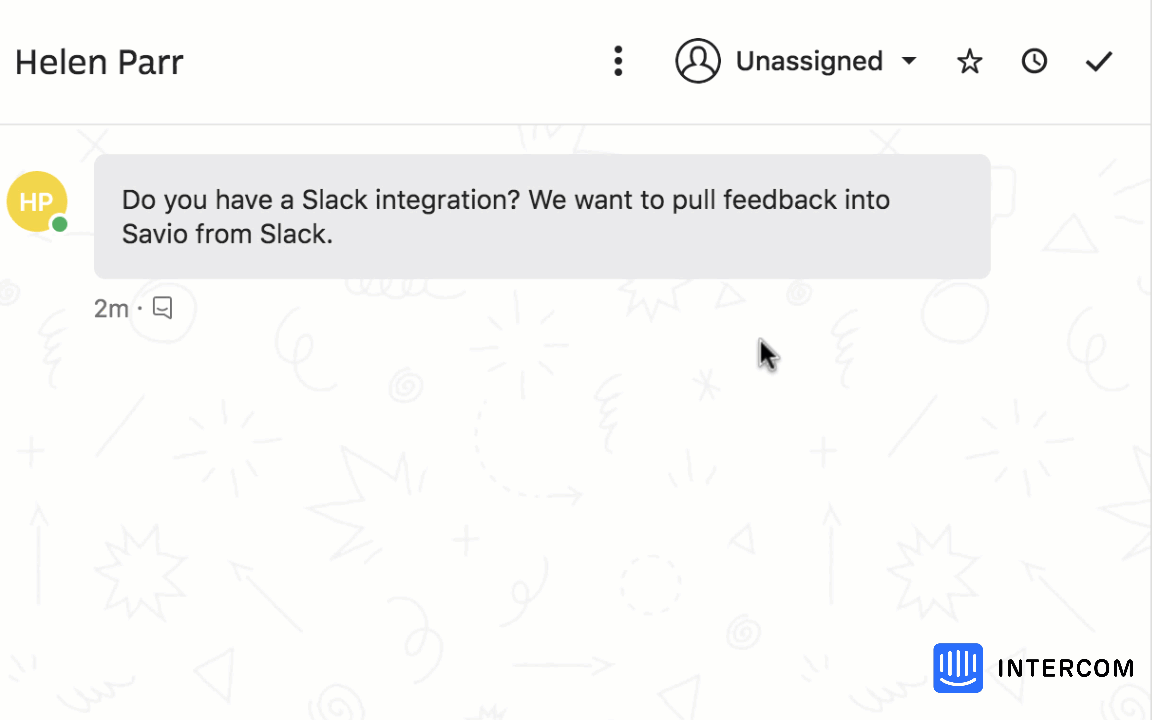 Tag a feature request in Intercom to send it to Savio.
Canny
Canny tracks feature requests from Intercom, Zendesk, and by letting users upvote Feature Requests in a public voting portal. If you have features that come in to a CRM, or are taken during calls in a tool like Google Docs, or an NPS tool, or a tool like Typeform or SurveyMonkey, you're going to be cutting and pasting a lot of data from that tool to Canny.
In fact, because it's so labor intensive, most teams just won't cut and paste from tools that Canny doesn't support. Which means when you prioritize with Canny, you're not using your master list of feature requests, which means you're probably not making the best decision you can.
Track requests from users at different points in customer journey
| | |
| --- | --- |
| | Good |
| | OK |
Savio
With Savio, you can track when a feature request comes from a churned user, active user, lost deal, prospect, or teammate.
So when you're trying to reduce churn you can see all feature requests from churned customers, and then build some of them. Or if you're trying to lose fewer deals, you can build features from lost deals. This information is entered when a feature request is captured, so there's no technical integration necessary.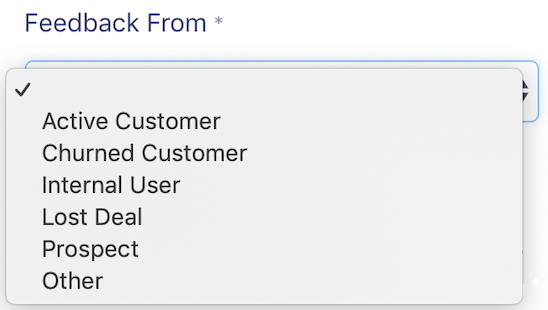 In Savio, select who the feature request is from when you enter it.
No technical integration necessary.
Canny
With Canny, you can track requests from active customers, trials, or churned customers. Getting this information is dependent on your app sending it to Intercom or Zendesk, or implementing their Javascript API.
Collect Feature Requests From Any Web-Based Tool
| | |
| --- | --- |
| | Good |
| | Not Good |
Savio
You can track feature requests from any tool with the Savio Chrome extension. This means that your teammate is able to stay in their support tool, CRM, etc when they send feature requests to Savio. Just click the Chrome Extension, enter the data, and you're done. One tab, one tool, and no logging into other tools required: minimal disruption.
Savio's less disruptive workflow is highly beneficial to your teammates. The Chrome Extension ensures they're going to track more feature requests because it's a lower friction process than cutting and pasting between two different apps. This makes Savio a great alternative to Canny.
Canny
With Canny, you can easily track feature requests from Intercom or Zendesk. Tracking from other tools gets complicated. To track a feature request that doesn't live in Intercom or Zendesk, your sales, success, or support team has to be bought into the process to submit feedback in the first place. Assuming you can get buy-in from your other teams, your teammates must have both tools open in two different windows, and has to toggle back and forth to ensure the right feature request is tracked in Canny.
Collect feature requests from Slack
| | |
| --- | --- |
| | Good |
| | Not Good |
Savio
Savio has a native integration with Slack. With it you can collect feature requests from Slack and send them to Savio with the click of a button. So when your teammates share feedback or feature requests from customers in Slack, those feature requests won't be lost. They'll be centralized with feature requests from other tools, and you can use them later on to prioritize what features to build.
Savio can listen to a Slack channel for feature requests
Canny
With Canny there's no straightforward way to track feature requests shared in Slack.
Collect feature requests from Help Scout
| | |
| --- | --- |
| | Good |
| | Not Good |
Savio
Savio has a native integration that allows you to track feature requests from Help Scout. When your support teammates get a Help Scout message with a Feature Request, they just add a predefined tag to the conversation. Savio will pull the feature request in. Savio will also add an internal note to the Help Scout Conversation confirming that the feature has been pulled in. This means that your teammates don't need to leave Help Scout to track feature requests in Savio. They don't even need a Savio account.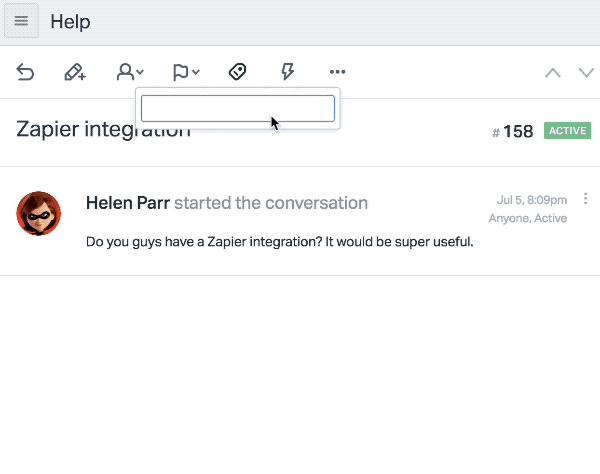 Tag a conversation to send Feature Requests from Help Scout to Savio
Canny
Canny doesn't have a Help Scout integration. So tracking feature requests from Help Scout in Canny is either a manual process or might be possible with Zapier.
Customer-facing roadmap
| | |
| --- | --- |
| | Not Good |
| | Good |
Savio
With Savio, there's no public roadmap option. Of course, you have the option to share what you're building privately with customers.
Canny
Canny has an option to share your roadmap publicly with your customers.
The two big downsides to sharing your roadmap publicly are:
Competitors can see what you're working on and considering
Priorities change so you can set the wrong expectations with customers

It's possible to set the wrong expectations with a public roadmap
If it's important to you to have a public roadmap in the same tool that you track feature requests, Savio might not be the right fit. If you're comfortable using two different tools - one to track feature requests and one for a public Roadmap, we find Trello to be a good Roadmapping option.
Record customers' actual words about problems, not just votes
| | |
| --- | --- |
| | Good |
| | OK |
Savio
In Savio, you can record and see the actual words that a customer used to describe their problem. Additionally, each piece of customer feedback is a vote for a feature. So you get BOTH votes AND actual customer words.
Canny
With Canny, you get votes and users can leave comments. But you often get a wide spread between the number of votes and the number of comments.



What do the 27 people who voted but didn't comment think?
It can't be understated how important it is to have customers' words instead of just upvotes to make good prioritization decisions. A customers' words help you understand the context and boundaries of the problem to build a good solution.
Triage new feedback to keep quality high
| | |
| --- | --- |
| | Good |
| | Not Good |
Savio
When customer feedback is sent into Savio, it lands in your inbox where somebody on your team triages it. What this means is they:
link the feedback to a feature request, which means the feedback is a "vote" for the feature request
they determine whether the feedback was from an active customer, a churned customer, a lost deal, a prospect or an or a teammate. This is so you can (for example) find all feature requests from Churned customers later on.
Triaging customer feedback means that every feature request in Savio has been vetted by somebody on your product team. It means you can trust the data you're going to prioritize with and spend your valuable developer budget on.
Canny
In Canny there is no triage step and all customer feedback is treated as good.
Use tags to group and sort feedback
| | |
| --- | --- |
| | Good |
| | Not Good |
Savio
In Savio, you can add tags to customer feedback. You might want to tag feedback with things like "Q3 Power Users Survey" or "Feb Voice of Customer Interviews" or even by component like "UX" or "Onboarding Experience". When you do this, you can look at all of the feedback you've gotten from your Power Users, February Customer calls, or all your UX or Onboarding improvements.
Canny
In Canny there is no way to add tags to feedback, so you can't look at your feedback across these kinds of dimensions.
See detailed feedback for every Feature Request
| | |
| --- | --- |
| | Good |
| | OK |
Savio
With Savio, when you click on a feature request you'll see:
everybody who asked for that feature
each customer's exact words they used when they asked for the feature
their company, MRR, plan, and any other customer attributes you've sent in
whether they're churned, active, a lost deal, a prospect, or a teammate
And you can even click through to the source tool where the feedback came in from.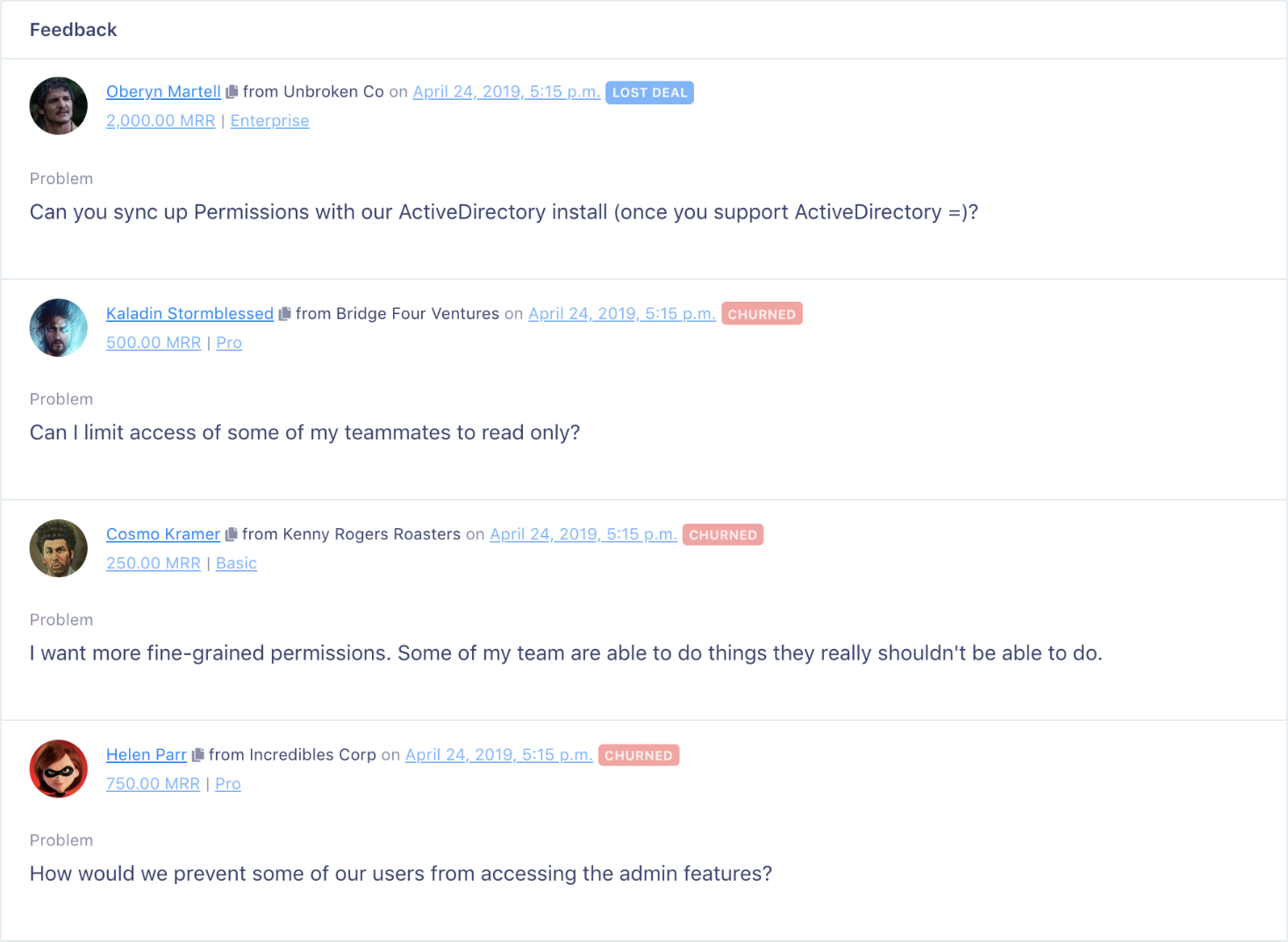 See all details about a feature in one place (in this case, a request for "Better Permissions")
Canny
In Canny, when you view a Feature Request you can see the original request, everybody who's voted for it, and any comments left by your teammates or voters. You don't get as much context about who those people are or the nature of their feature request.
Easily reach out to customers that provided feedback
| | |
| --- | --- |
| | Good |
| | OK |
Savio
In Savio, you can easily reach out to customers that have asked for a specific feature to better understand their problem and validate your solution. Every user's email address is on the page that describes your feature request.
Canny
In Canny, each user's address is on their own page. So if you want to email 10 users you need to open the feature request, click the user, get their email address, click back, click to the next user, etc. It's painful, especially if you're going to email 10+ customers to understand more detail about the feature that they want.
Import users without adding and customizing Javascript
| | |
| --- | --- |
| | Good |
| | OK |
Savio
In Savio, you can import users without adding custom JavaScript to your site. This means that you can import customers without needing a developer. You can either import your users from Intercom or you can import your users from Segment, just by clicking a few buttons. You can get up and running in seconds rather than hours or even days.
Canny
If you're using Canny and NOT using Intercom, you DO need to add custom Javascript to your page to track users. This means you need a developer in order to get up and running and get full value from Canny.
Export your data to CSV
| | |
| --- | --- |
| | Good |
| | Not Good |
Savio
With Savio, it's straightforward to export your data to a CSV. You just click a link and you'll be emailed a CSV within minutes containing all of your feature requests, customer feedback, user names, accounts, MRR, Plan, tags, etc. It's your data and you should be able to take it out whenever you want.
Canny
With Canny, there is no link to export your data to a CSV. It's a much more complicated process and either involves going back and forth with their support team or requires you to write custom code to get the data that you need from their API.
Can your support team add feedback on behalf of a customer?
| | |
| --- | --- |
| | Good |
| | OK |
Savio
Nothing is more frustrating as a customer than to send a feature request to support, and have support tell you to go to another tool to input that feature request. It makes you feel like the company doesn't care about your feature requests because they won't do it themselves - they ask you to send in that feedback twice.
With Savio that never happens. Customer can send feature requests to support and your support rep can send that feedback directly into Savio.
Canny
When you use Canny to track your feature requests, your support rep either has to log into Canny themselves and upvote the Feature Request on the customer's behalf (but can't leave the customer's verbatim feedback), OR they have to tell the customer to go to the Canny public portal, search for their Feature Request, and to upvote it there. Your support rep cannot add the customer's feedback on behalf of the customer. The customer has to do it themself.
Can users provide feedback without logging in
| | |
| --- | --- |
| | Good |
| | Not Good |
Savio
When a customer sends feedback to support, your rep can send that feedback directly to Savio.
Canny
When a user wants to leave feedback publicly with Canny, they must create a Canny account in order to leave feedback: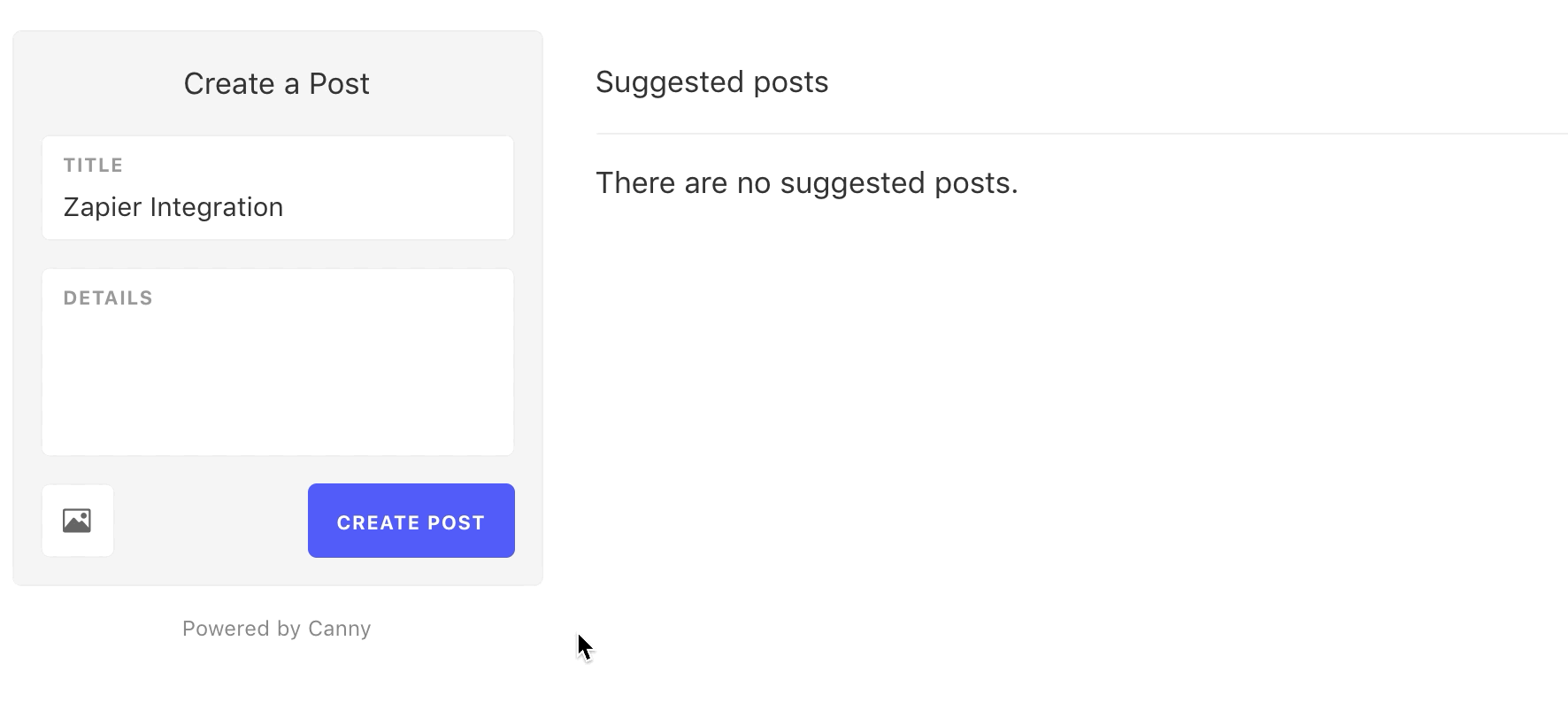 Your customers must create a Canny account to create a new Feature Request or Upvote an existing one
You can also use the advanced Single Sign-on Feature, which Canny does not recommend for most cases.
Import your Canny Data
Want to try a Canny alternative? We'll import your data for free.