Productboard pricing in 2023: How much does Productboard cost?
Productboard helps companies become more customer-centric by making it easy to build product roadmaps. The app provides a complex and detailed way to visualize your product roadmap and connect it to your development process. It also allows you to compile customer feedback to help you prioritize feature requests.
So how much does Productboard cost? And is it worth the price?
Here's everything you need to know about Productboard's pricing and software in 2023.
Productboard pricing in 2023
Productboard's pricing is available on its website. They offer the following plans:
"Essentials" at $20 per month per Maker

"Pro" at $80 per month per Maker

"Scale" at a custom price (it was $100 per month per Maker in 2021)

"Enterprise" which comes with a custom quote
Productboard's pricing for each of its plans (billed yearly).
Note: Each plan's price is per "Maker", so the true cost of Productboard depends on how many Makers you have on your team. This makes the true cost of Productboard somewhat opaque: it can be difficult to know what you will pay for it until you really start using it and see what features you need and how many of your teammates need to be "Makers".
Who is a Maker in Productboard?
A Maker is one of your teammates that has full access to edit, update, add, create and prioritize feature ideas, insights, and roadmaps.
Your customers or users are not Makers—you get unlimited customer feedback on any plan. You can also have unlimited "Contributors" and "Viewers". Contributors share product ideas and submit feedback requests. Viewers can see the roadmap but can't add anything or make updates.
Is there a free trial of Productboard?
Yes, Productboard offers a 15-day free trial for the Essentials and Pro plans. They don't require a credit card to start your trial. They also offer discounts for charities and some non-profits. You have to talk to Sales person to try out the Scale or Enterprise plans.
Caveat #1: Prices differ based on how you're billed
The above pricing assumes that you choose to be billed yearly. You can also choose to be billed monthly. If you do, it's a little more expensive for the Essentials and Pro plan.
Billed monthly, the Essentials plan costs $25 per month per Maker

Billed monthly, the Pro plan costs $90 per month per Maker
Caveat #2: Minimum number of users on yearly plans
Productboard notes that if you choose the less expensive yearly plan, you will have to pay for a minimum number of users.
"If you are on a yearly plan, your contract includes a fixed minimum of Makers."
However, this currently only applies to the "Scale" plan, billed yearly. In that plan, there is a minimum of 5 Makers. That means it's a minimum $500 monthly spend (or $6,000 yearly minimum spend).
Our team has confirmed with Productboard support that there is currently no fixed minimum number of Makers on the Essentials and Pro plans.
Productboard pricing calculator
Because the price varies depending on the size of your team and the type of billing, we've created some scenarios to help you calculate what Productboard would cost for your particular scenario. We've also included a comparison with Savio, an alternative to Productboard.
Scenario: You're a small team with 3 Makers
You're a small team with 3 individuals who need to be able to create, edit, and prioritize feature requests. You want to be able to collect customer feedback into a centralized place and then use that feedback to help you prioritize which features to build next.
Productboard: You would need the "Pro" plan. The "Essentials" plan doesn't let you collect and organize customer feedback. You don't need the extra features that come with the "Scale" plan. You would have to pay for each of the three "Makers" on your team.
Savio: With three Makers you would pay for 3 admin seats on the Essential pricing plan.
| Productboard Pro plan with 3 Makers (billed monthly) | Productboard Pro plan with 3 Makers (billed yearly) | Savio Essential plan |
| --- | --- | --- |
| $270 per month ($3,240 per year) | $240 per month ($2,880 per year) | $85 per month ($1,020 per year) |
Savio provides better value, with all the same features while saving you over $1,000 each year.
Scenario 2: You're a larger company with 15 Makers
You're a medium-sized or large company and you want an effective way to collect feedback from your users. You have 15 teammates that need to be able to create, edit, and prioritize feature requests. You also want to integrate with various feedback channels like Intercom, Zendesk, and Slack.
Productboard: You can get away with the "Pro" plan because you don't need more advanced features like visualizing feature dependencies or managing multiple product releases.
Savio: You would need the "Professional" plan for those features.
Note: Savio helps B2B SaaS Customer Success, Product, and Sales teams organize and prioritize product feedback and feature requests. Learn more about Savio here.
| Productboard Pro plan with 15 makers (billed monthly) | Productboard Pro plan with 15 makers (billed yearly) | Savio SMB plan |
| --- | --- | --- |
| $1350 per month ($16,200 per year) | $1200 per month ($14,400 per year) | $625 per month ($7,500 per year) |
Again, Savio provides much better value, offer the same features, and saving you over $7,000 per year.
What was Productboard's Pricing in the past?
Productboard's pricing strategy has changed over time. In 2015, their pricing strategy was very similar to Savio's: they charged a simple monthly fee for each plan. Plans differed in terms of features and the number of "Editors" that were included.
Starting in 2016, Productboard shifted to a pricing strategy that charged per app user. "Users" included both what they now call "Makers" as well as "Contributors". These plans allowed an unlimited number of viewers, as well as an unlimited number of customers to provide feedback.
In 2018, they split up "User" into two different roles: "Editor" and "Contributor". They began charging per Editor and each plan also included a limited number of Contributors in each plan—people like your sales and customer success teammates who contribute feedback but do not edit or prioritize it.
In 2019, they changed their terminology to use "Maker" instead of Editor, and they've stuck with that terminology since then. They also reduced the number of Contributors that can send in feedback from your customers.
Finally, in 2020, Productboard adopted the current pricing plan. They continued charging by the number of Makers but included an unlimited number of viewers and contributors to each plan. They also added an "Essentials" plan with very limited features.
What do you get?
Productboard offers a sleek app for helping you to build a product based on what your customers want. It offers three primary solutions.
1. The first is a centralized repository for your customer feedback. You can collect all your feedback and feature requests in one place.
2. The second is the ability to visually prioritize the features that support your objectives.
3. The third is the ability to create visual roadmaps that you can share with your team.
There are also a number of useful Productboard integrations available, including with Slack, Microsoft Teams, Zapier, Salesforce, Zendesk, Intercom, Jira, GitHub, and more.
So, is Productboard worth it?
Productboard reviews make it clear that most customers like the tool, although it has some limitations. Here are some of the pros and cons of Productboard.
Productboard Pros
Lots of people really like Productboard. They note that it's a well-designed feedback tool that's aesthetically pleasing. They're especially attracted to the roadmapping feature that makes it easy for Product teams to connect with Devs.
Productboard review source: Drew A.
Its ability to create beautiful and complex product roadmaps is one reason some companies are using Productboard in place of Jira and other roadmapping software tools.
Productboard Cons
However, some Productboard users say that the product management software is a bit "Overkill". It can be more complex than what users really need.
And while the roadmapping features can be nice, Productboard isn't as strong in the feedback collection piece as some users would like. In the words of one reviewer,
"It's clear the company is very focused on delivering roadmapping features which is a dying art. Most progressive product companies are less focused on roadmaps and prioritization formulas and more focused on looking at the learnings they are constantly getting from customers, and organizing those identified opportunities."
Productboard review source: Morgan P.
The same user notes that Productboard is limited when it comes to customer segmentation. Slicing and dicing feature requests by customer attribute is critical to understanding what your users really want. Productboard doesn't do that easily (shameless plug: segmenting and filtering feature requests is one of Savio's strengths).
"Also [Productboard's] segmentation is so frustrating!! We would love to have company information in there and be able to filter and sort the insights based on that, but it's so frustrating that it is only based off of email domains--we'd like to import this information or have it imported from an integration. Also the user segmentation is so useless! What's the point of even using tags if you can't dynamically sort by them!"
Another complaint about Productboard is with respect to billing. Some customers noted that billing is not transparent, and that it's easy to add extra Makers without meaning to. Sometimes they do not even alert you when you will be charged for additional Makers.
Productboard review source: Hana T.
Finally, some people just hate it. We saw these reviews on Reddit.
"I wanted to share as I absolutely hated it every day of the 2ish years that I've used it"
And also:
"It's JIRA with a different skin and provides absolutely no value whatsoever."
Obviously those are are on the extreme end, but still—they're telling.
Are there more affordable alternatives to Productboard?
Absolutely. Productboard is one of the more expensive product roadmapping applications around (although it's not as costly as UserVoice).
The cost might be justified if its features are exactly what you're looking for: a (limited) system for collecting feedback that connects to a well-designed roadmapping tool. But there are many Productboard alternatives that are less expensive and can provide just as much value.
Savio is one of the best Productboard alternatives for tracking customer feedback and feature requests for SaaS companies. It's lightweight, easy to use, and lets you slice and dice your feature requests so you can see which of your customers want what.
More Productboard competitors and pricing: Save $6,000 Every Year with These 14 Productboard Alternatives for Tracking Customer Feedback
And more: Productboard vs Canny: Which Product Management Software Tool Should I Choose?
Savio has most of Productboard's features
Savio is more affordable than Productboard, but does it have the same functionality?
Yes. It has all the same abilities to collect feedback, validate ideas with a customer feedback portal, prioritize features, build a visual roadmap, and close the loop with customers.
A better voting board
Productboard offers a "feedback portal", which functions just like any other feature voting board tool. And, like many other tools, it could unintentionally bias your feedback.
Savio built a contrarian voting board—one that minimizes bias—so you get the most accurate feedback data from your users.
Hide upvote counts, so users don't just vote for what's already popular

Randomize your feature list, so users don't just vote for what's at the top of the list

Make features public or private, so you can control what features everyone can see
Centralize feedback from anywhere
Productboard lets you centralize your feedback from anywhere.
So does Savio. We have all the integrations that Productboard does, including Slack, Salesforce, Zendesk, Intercom, and Zapier. You can also easily collect feedback via email. And there's a chrome extension that lets you collect from any web app. Finally, if all else fails, you can add feedback programmatically with our API.
Organize and segment your feedback and feature requests
Most product feedback software tools don't let you segment your requests using customer data like MRR, plan, and more. Productboard does give you the power to segment, but you need to be on the Scale plan. And as the reviews note, segmentation is limited.
Savio has much more powerful customer segmentation, and it's built into every plan.
For example, Savio makes it simple for you to filter and sort feedback to understand:
What features your churned customers are asking for

What customers on your free plan say they would pay for

What your highest MRR customers are looking for

What feedback prospects are leaving for your sales team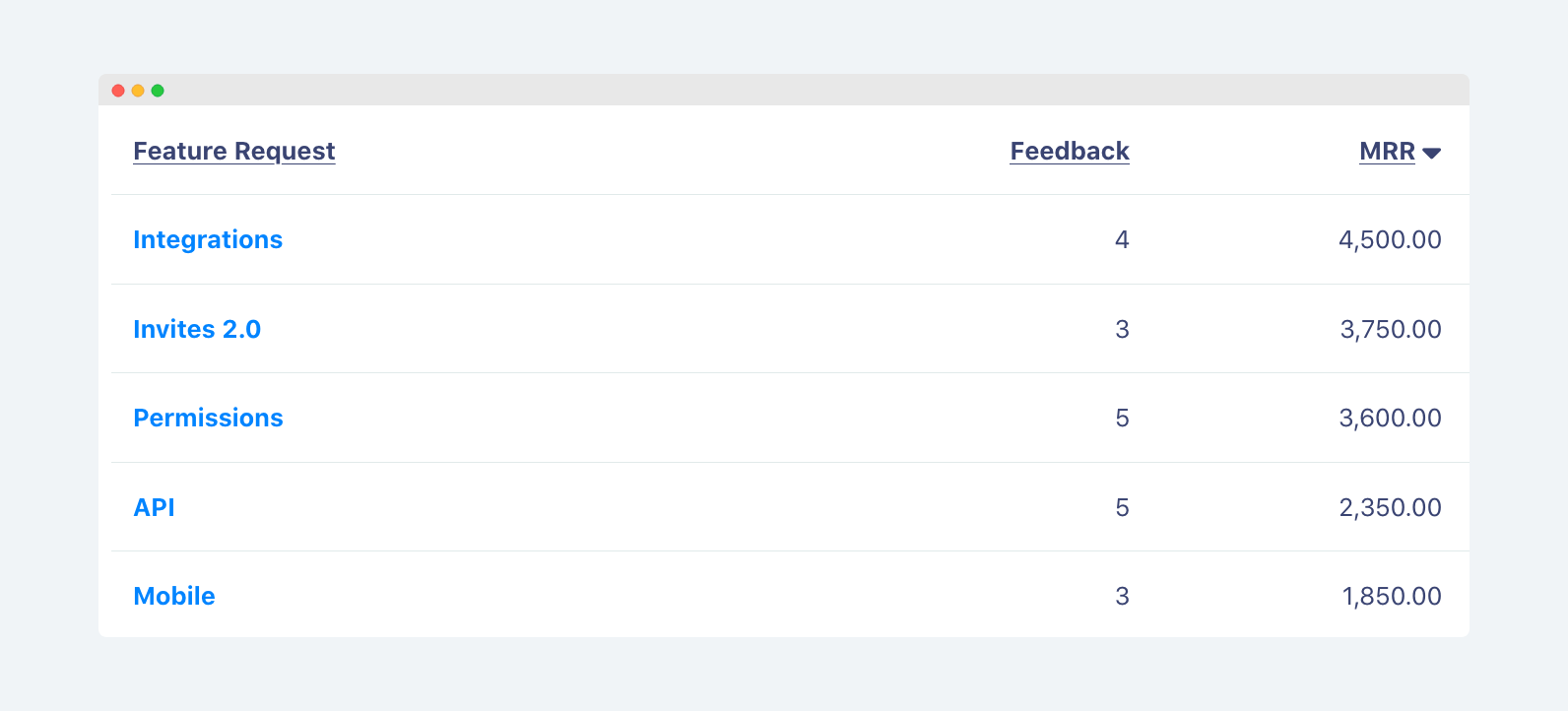 Here, we've filtered for feature requests with more than $1,500 in cumulative MRR and then sorted the list to find the features with the highest MRR associated with them.
This empowers you to quickly identify and prioritize your highest-impact features.
Savio unites your team around your customers
Productboard helps you share customer insights with your team members. Savio does as well. Keep stakeholders on the same page by using customer data to justify product decisions (or advocate for new ones).
Share product feedback with your team to explain product decisions and keep everyone aligned.
Read more: How To Run Your Product Meeting Using Savio
Build loyalty and reduce churn by closing the loop
Productboard lets you send updates to users that asked for a feature, which is great. Savio takes this one step further, allowing you to quickly send personalized email messages to users who asked for a feature. You can also select some users and not others—handy for customers who might need an extra personalized touch.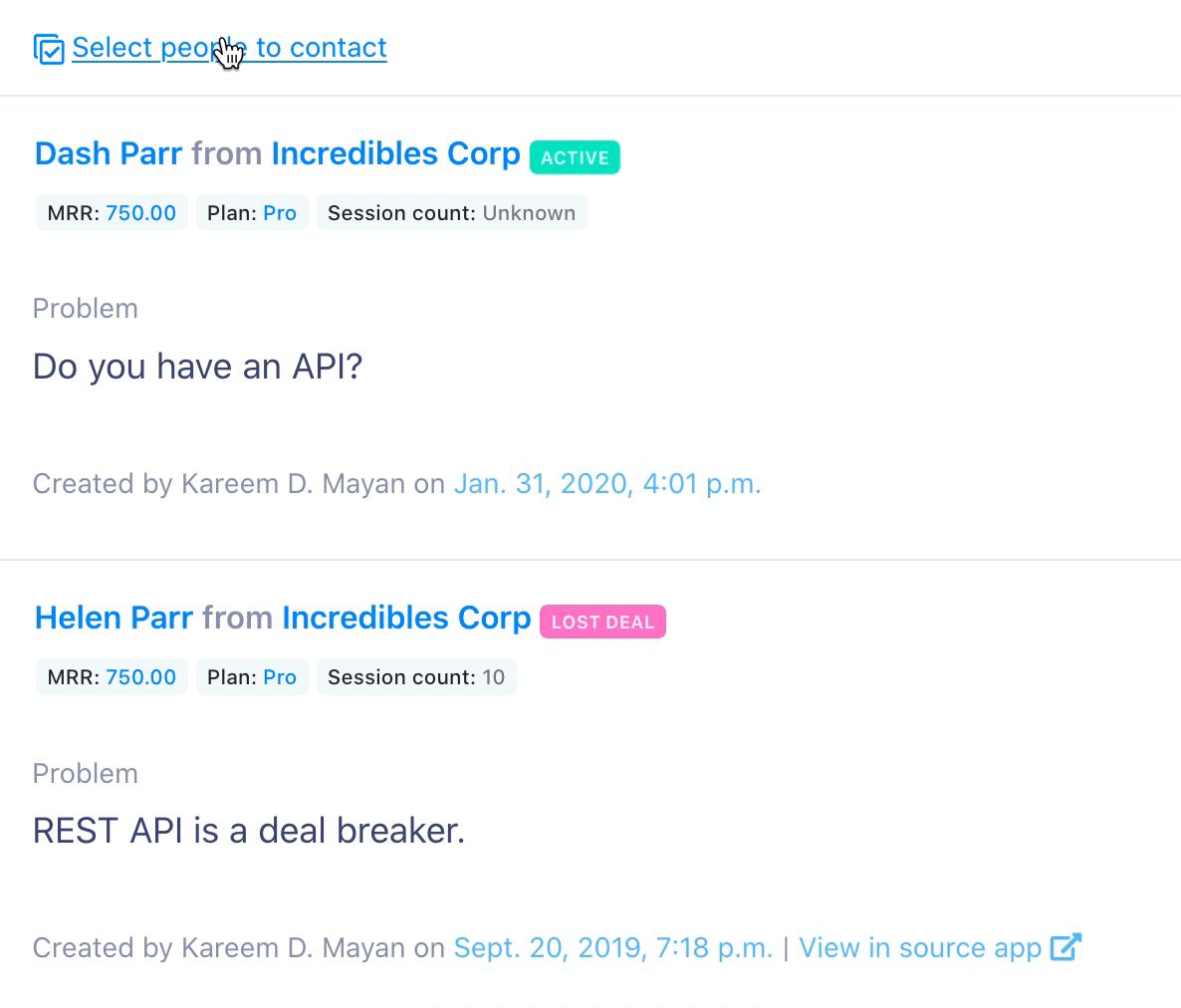 Share product feedback with your team to explain product decisions and keep everyone aligned.
The takeaway: Productboard is ideal for big-budget companies that need basic feedback collection and a roadmapping tool
Productboard's real strength is building complex product roadmaps that incorporate strategic priorities and basic product feedback. If you need complex roadmaps, Productboard may be a good fit for you. It also comes with some built-in frameworks for feature request prioritization.
But if you don't, Productboard just offers the same thing as Savio with a higher price tag. If you're looking for a clean and lightweight product management solution for collecting, organizing, segmenting, and prioritizing feature requests, Savio is a better-value choice.
Get started with Savio and start making the product your customers want. Sign up for a free trial of Savio here.
(And thank you to these articles for providing the information used to create this article.)
Last Updated: 2023-04-03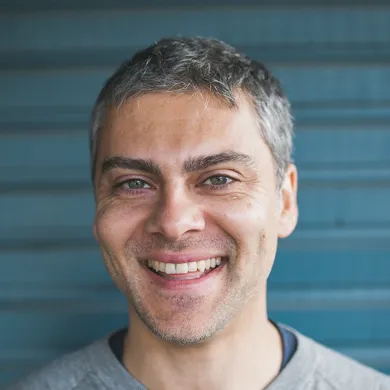 Kareem Mayan
Kareem is a co-founder at Savio. He's been prioritizing customer feedback professionally since 2001. He likes tea and tea snacks, and dislikes refraining from eating lots of tea snacks.
Make product plans with evidence, not anecdote
Centralize product feedback, enrich and prioritize it with customer data, and create evidence-based roadmaps.
For B2B SaaS Product and Success teams.
Contents
A Product Management Platform
for Customer-Obsessed Teams
SaaS teams use Savio to centralize customer feedback
and create evidence-based roadmaps