20+ Best Product Feedback Software Tools
Virtually all companies—95% of us—collect feedback from our customers. We do it because feedback is essential for product success. Feedback tells you what your customers want and what they'll buy.
While it's possible to keep track of product feedback with Trello or a spreadsheet, it's not ideal. A poor process gets chaotic and unusable.
You need a product feedback tool—one that lets you organize and draw insights from your feedback.
But which one?
There are tons to choose from, and each has different features. The right one for you depends on your needs.
We're experts here—customer feedback is our entire gig. So we've listed our 20+ favourite tools here, along with their primary features, to help make it easier for you to find the best fit for your needs.
We've broken our list into tools primarily for organizing product feedback and tools for collecting it.
Tools for organizing product feedback:
Tools for collecting customer feedback:
Get in touch and let us know your favourite or if we're missing one!
The best customer feedback tools for organizing product feedback
What do you do with customer feedback? You use it to inform your feature priorities and your product roadmap.
If you do that well, you will boost customer loyalty, increase retention, and drive upsells.
These tools help you do that. They each help you aggregate your feedback, use it to glean essential insights, and then build a better product.
Savio is a lightweight but very powerful tool for aggregating your customer feedback and feature requests in a single place and using them to draw useful insights.
Savio centralizes feedback in one place
Savio is like a Swiss Army Knife—it's flexible enough to work with any of the apps you get feedback in. It's got a ton of native integrations that let you centralize feedback from tools you already use, like Help Scout, Intercom, Typeform, Salesforce, Hubspot CRM, and Slack. There's also a voting board, and you can quickly log feedback received via email.
We connect to Zapier if you use an app we don't have a native connection to, and the Chrome extension makes it easy to bring in feedback from anywhere on the web. And if none of that works for you, there's an API.
Savio organizes and segments your feedback and feature requests
Once you have your voice of customer requests in a central location, Savio makes it easy to segment by important customer attributes like MRR, stage in the customer journey, and more. That gives you visibility into which customers love your product, what they're looking for, and why.
For example, Savio makes it simple for you to filter and sort feedback to understand:
What your highest MRR customers think of your product

What features your churned customers were asking for

What feedback prospects are leaving for your sales team

What customers on your free plan say they would pay for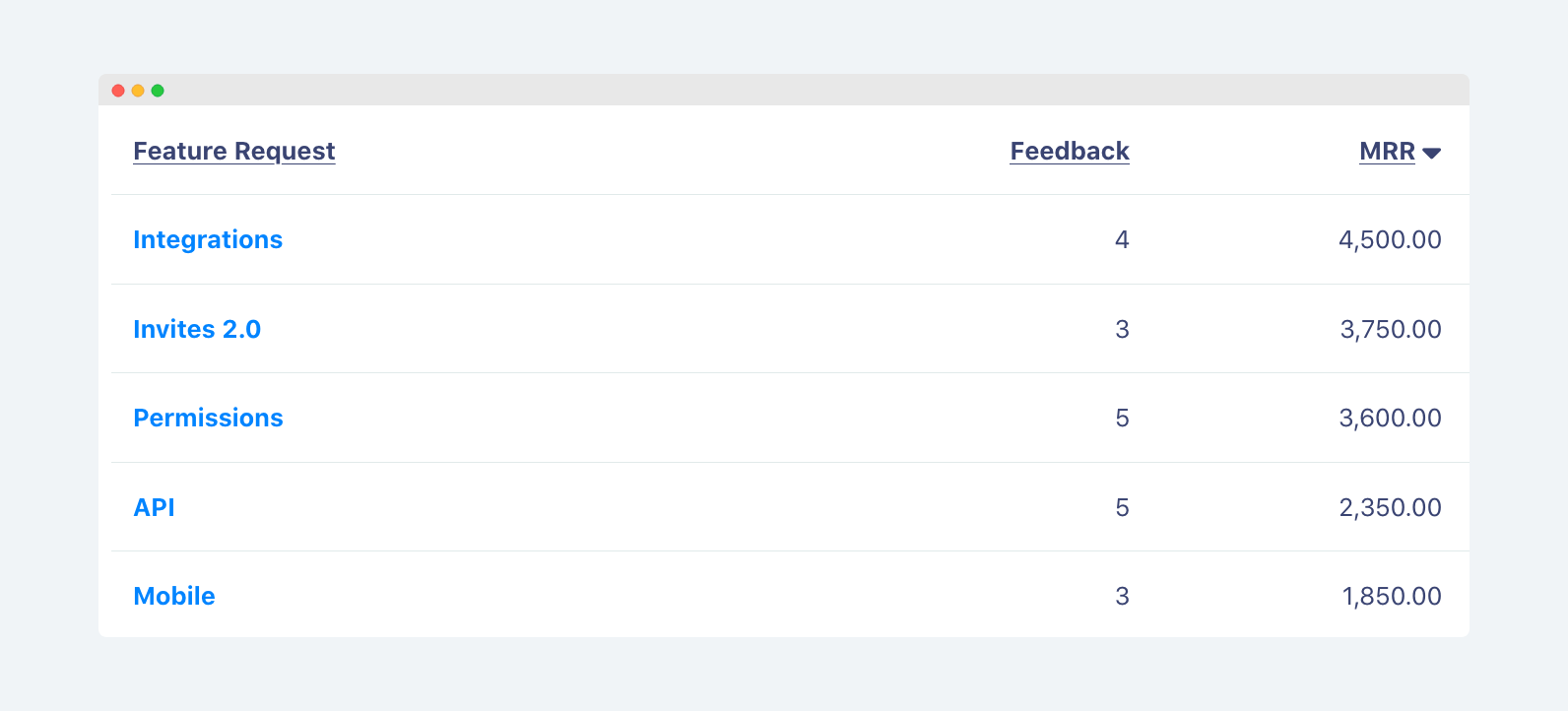 Here, we've filtered for features with cumulative MRR over $1,500 and sorted from largest to smallest, making it easy to see which feature has the most MRR associated with it.
This allows you to find the most impactful features so you can prioritize product features, make changes to your service, or train customer support people based on better customer insights.
Savio unites your team around your customers
Teams don't always disagree about what to build next. Savio makes it easy to share customer feedback with others so everyone understands what customers are asking for. That way, Product Managers can justify the product choices they're making using data—one step towards handling dissent about roadmaps.
Share feedback with teams to justify product decisions.
Read more: How To Run Your Product Meeting Using Savio
Savio helps close the loop
Finally, Savio empowers you to follow up with customers—"close the loop"—when you build a feature, they asked for or take another action based on their feedback. Closing the feedback loop is one of the best ways to build customer loyalty and increase retention.
Savio lets you do this in just a few clicks.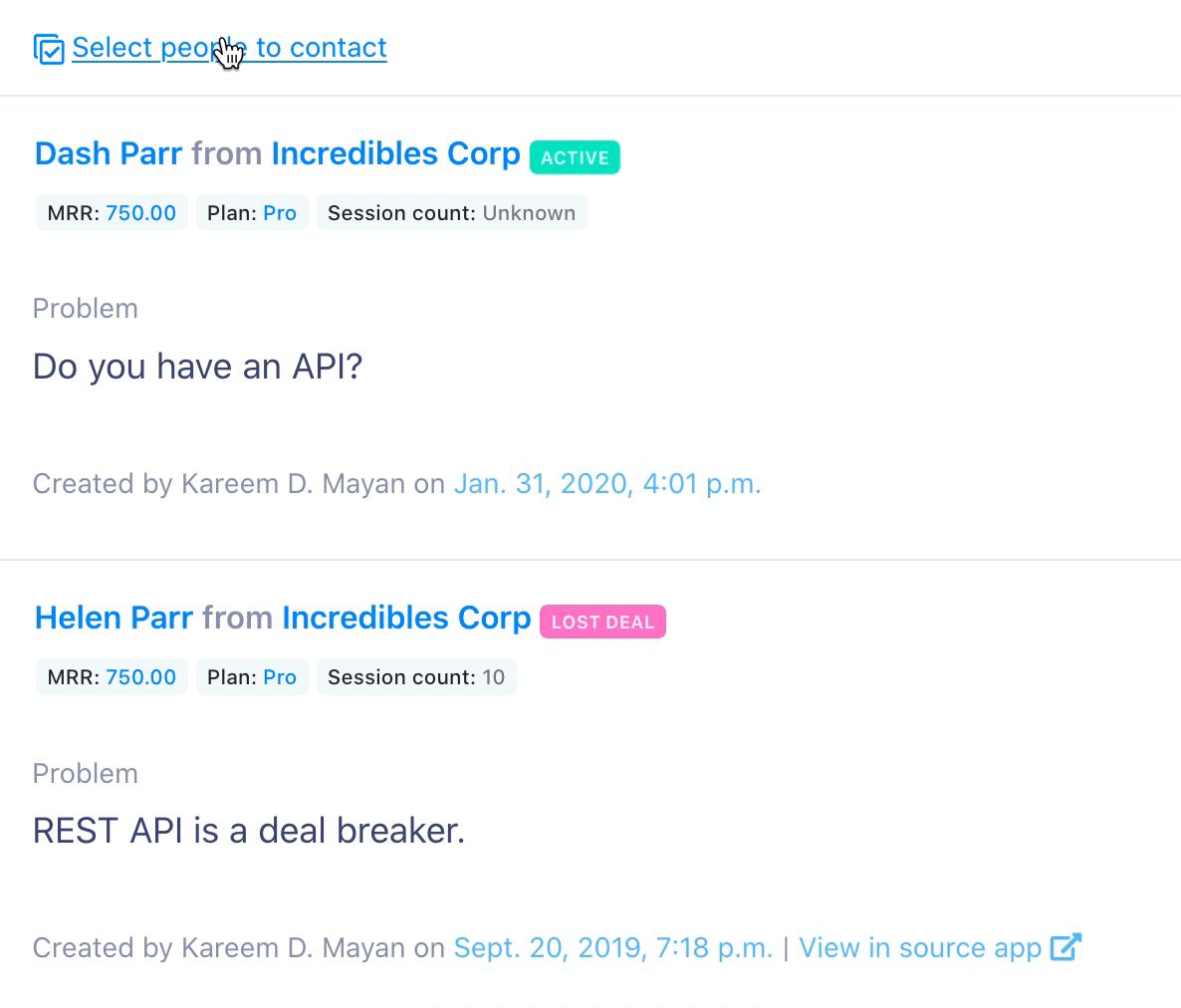 Send close-the-loop emails with Savio in just a few clicks.
Advantages:
Savio can easily receive feedback from email, through its many integrations, and from anywhere on the web

A powerful triage process helps you put aggregate similar requests and determine when you need more information

Segmenting feedback helps you prioritize feature requests and build for your most important customers

Public voting boards help keep your customers engaged

Easily close the loop to boost customer loyalty and reduce churn

It's good value—lots of features for an affordable price
Disadvantages:
No feature to visually create a roadmap in collaboration with your team (Just kidding, we built a roadmapping feature.)

No support (yet) for multiple languages.
How much does Savio cost?
Savio starts at $39/m, which gets an admin seat ($23/m for additional seats). That gets you everything you need to collect, centralize, and prioritize feedback and feature requests. You can upgrade to higher plans for more seats and a couple more features. Free trials are available for all plans—sign up here.
Who it's best for: Savio is ideal for customer-centric SaaS companies that need a way to organize and prioritize their feature requests and build the right product—the one their customers really want.
UseResponse is a customer service and support software platform. It has several products rolled into one: a feedback collection piece, a help desk ticketing system, a live chat system, and a knowledge base software platform. Feedback is added to a public forum where other users can vote for features they like. The feedback software includes support for multiple languages, the option for anonymous ideas and votes, and the ability to make feedback boards private or public.
Advantages:
Voting boards make it easy for customers to tell you what's important to them

Triggers help automate the routine processing of incoming feedback

Widgets allow users to leave feedback without leaving your site
Disadvantages:
Limited ability to segment product feedback by customer attributes like MRR

Limited analytics and trends reporting

No "close the loop" feature to let customers know when you've built their feature
How much does UseResponse cost?
UseResponse starts at $125/m for the complete suite of software solutions in the "Cloud" plan. You can get the "On Premise" plan for $400/m. There are free trials available for all plans.
Who it's best for:
UseResponse is best for companies that need a basic, all-in-one customer support and feedback software solution and don't need the ability to glean deeper insights from customer data.
Productboard pipes customer feedback and feature requests into a single board where it can be prioritized. Its key features include a tool for easily extracting feature requests from email, a framework for helping you prioritize requests, and templates for your product roadmap.
Advantages:
Helps you turn customer feedback into changes in your product roadmap

It's simple to share with all your teams and stakeholders
Disadvantages:
Doesn't allow you to sort feedback by the customer attributes that matter to you

Limited integrations

Doesn't allow you an easy way to contact your customers or close the loop
Read more: Save $6,000 Every Year with These 14 Productboard Alternatives for Tracking Customer Feedback
How much does Productboard cost?
Productboard starts at $20/m per user for the "Essentials" plan with limited features. It's $80/m per user for the "Pro" plan which gives you access to all of the features. There's also two custom plans—"Scale" and "Enterprise", and free trials are available.
Who it's best for:
Productboard is best for SaaS companies with large budgets that need a product management tool that has some limited feedback capabilities added on.
Read more: Productboard vs ProdPad
Note: Looking for a reasonably priced tool to organize and prioritize your product feedback and feature requests? Savio does just that - learn more about Savio here.
Canny organizes customer feedback and feature requests by putting them on a public voting board. Users upvote their favourite features. Key features include customer profiles and sharing a public roadmap for what you're planning to build next.
Advantages:
The tool is easy to set up and use

Some segmentation based on customer profiles is possible

The public roadmap helps keep your users informed and engaged
Disadvantages:
More appropriate for public-facing vote collection from your community (could also be a pro if that's what you're looking for)

High price

Some key features like SFDC and Hubspot Integrations, and Chrome Extension are limited to "Call us" plan
How much does Canny cost?
Canny has a free plan with limited features. The first real plan is the "Growth" plan, which costs $400/m for 5 admins ($40/m per additional admin). For more features, you can opt for the custom "Business" plan. Discounts are available for some qualified companies and organizations.
Read more: 13 Canny Alternatives for Sophisticated Customer Feedback Management
Who it's best for:
Canny is best for SaaS companies that want a powerful public voting board and who don't mind paying more for it.
UserVoice is a forum for feature requests. As with Canny, your users can vote for their favourite features. Key features include integrations with Slack, Zendesk, and Salesforce, and a publicly shared roadmap.
Advantages:
Lets you easily see which requested features are the most popular

Makes it easy to show your users what you're working on next

Allows you to segment feedback by customer MRR, plan, and more
Disadvantages:
There's no free trial plan and no demo; the first time you get to try it is after you buy it.

The native integrations available are quite limited

There's no close-the-loop function to let your customers know when you built what they requested
How much does UserVoice cost?
UserVoice costs $699/m for super basic features on the Essentials plan (logging feedback). It's $899/m to add on a feedback widget. And then it's $1,349/m for segmentation of feedback with customer data. Learn more about UserVoice's pricing here.
Who it's best for:
UserVoice is for Enterprise clients with big budgets that just need a simple voting board—none of the bells and whistles or more sophisticated analytics.
Like UserVoice and Canny, Loop organizes product feedback into a public board where users can vote on their favourite features. However, it adds several unique features, including the ability to screenshot a webpage or app and a close-the-loop feature.
Advantages:
Screenshots help your users provide more specific feedback

You can close the customer feedback loop with just a few clicks

It's great for identifying bugs and software issues
Disadvantages:
Filtering and segmenting by customer attributes isn't possible, so you can't filter out the requests of your most important customers

Few integrations with the tools you're already using

There are limits on the number of pieces of feedback you can collect unless you opt for the custom "Enterprise" plan
How much does Loop cost?
Loop charges $39/m for the "Premium" plan allowing you to collect 100 pieces of feedback. You can also opt for the custom "Enterprise" plan or the free "Starter" plan.
Who it's best for:
Loop is best for smaller organizations with smaller budgets that need a lightweight voting board and only want to collect feedback on a small number of users.
Roadmap does what it says on the can: it helps you create beautiful visual roadmaps that you can share with your users and teams. Key features include a voting board where your users can vote for their favourite features, the ability to close the loop with customers, and integrations with Intercom, Slack, and Zendesk.
Advantages:
Promotes engagement of users and makes it easy to keep them informed

Gives you a high-level sense of which features are most popular
Disadvantages:
Difficult to get feedback from email or outside of native integrations.

You can't segment or filter feature requests by attribute

Limited analytics and reporting capabilities
How much does Roadmap cost?
Roadmap is $19/m per user for one product. You can upgrade all the way to the "Enterprise" plan, which gets you more features and feedback on more products—that plan is $79/m per user. Free trials are available.
Who it's best for:
Companies that want to easily include a well-designed visual roadmap on their website and engage their customers but who don't need to do any deep analytics or split out insights about particular groups of customers.
Feature Upvote is perhaps the most lightweight of the product feedback organization tools. Like many of the others, Feature Upvote lets you create product boards and allows users to vote. Key features include the ability to mark features as "under consideration", "planned", or "built". Voters don't need to log in, and it has support for 10 languages.
Advantages:
Users can vote for their favourite features

No log-in increases participation from users

You can easily use it with non-English audiences

You get unlimited pieces of feedback per board
Disadvantages:
You can't segment or filter requests to find out what your most valuable customers need

Doesn't let you close the loop

Limited analytics and reporting capabilities
How much does Feature Upvote cost?
It's $79/m per board. You can also sign up for a custom "Enterprise" plan. Free trials are available, and there are discounts for nonprofits and some other companies.
Who it's best for:
Feature Upvote is best for large organizations like universities that don't need to segment their requests to understand the needs of particular kinds of customers. It's also great for companies that have international clients and want to offer a voting board in a language other than English.
Like several of the others on this list, Aha! is a public feature voting board that connects to a roadmap visualization and product management tool. It distinguishes itself by focusing more heavily on the product management side; the feedback board tool is fairly limited. Key features include feature voting, the ability to capture feedback with the Aha! app, and feature prioritization.
Advantages:
Disadvantages:
It doesn't integrate with many popular communication tools like Intercom and Help Scout

You can't filter or segment by customer attribute

It's not easy to close the loop with your customers when you build what they ask for

There isn't a clear feedback triage process built-in
Read more: Aha! alternatives for product managers
How much does Aha! Cost?
Aha! price is $59/m per user which gets you its most basic features. It goes up from there to the "Enterprise +" plan, which has more features and costs $149/m per user. Some qualifying startups can get a discount.
Read more: Aha! pricing in 2023: How much does Aha! cost?
Who it's best for: Aha! is best for companies that need a robust product management tool and who need only very limited feedback capabilities.
UserReport is another feature request voting board tool, but with some extra feedback management functionality for media companies and advertisers. Key features include an online survey widget that can collect NPS data, integration with Google Analytics, and publishing tools.
Advantages:
The survey widget can tell you about your user demographics

Integration with Google Analytics

It has a number of features for marketers and content creators to help optimize content for their audience
Disadvantages:
The data and reporting features are very limited

It's not easy to combine two pieces of feedback into the same feature request when they're related

No roadmap tool that shows users what's in the product pipeline
How much does UserReport cost?
The survey widget is free. The "premium" plan gets you access to the feedback widget and to the other features aimed at publishers. Prices for the premium plan aren't available on their website.
Who it's best for:
UserReport is aimed at publishers and media companies to understand their audience and publish targeted content. It's best for companies with high-traffic websites that need to show their advertisers which media performs best for their audience and what to expect from advertising campaigns.
Note: Savio helps B2B SaaS Customer Success, Product, and Sales teams organize and prioritize product feedback and feature requests. Learn more about Savio here.
The best software tools for collecting customer feedback
The following tools are our favourites for collecting feedback—getting it out of your customers' heads and into your hands.
One key point to remember when collecting product feedback is that it doesn't come from only one place. You'll get it from your support, sales, customer success, and even marketing teams. You'll get it from surveys. You'll get it from user-tracking apps and heat maps. And you'll get it from user interviews.
We've included a range of tools here that make it easy to collect and bring together various kinds of feedback from one or more of those channels.
(Looking for cheaper options? Check out these free feature request tracking apps.)
Survicate is a product feedback tool that helps you get user feedback through in-product feedback surveys. It integrates natively with CRM, Analytics, and Customer Support tools. You can run surveys on websites, mobile apps, emails, and links.
Advantages:
Many survey distribution channels: in-product, mobile app, website, email, and link

NPS, CSAT, CES, and 12 more survey question types in one tool

Customize the font, color, background, and position of your survey without coding

23 native, one-click integrations, including Segment, Mixpanel, Amplitude, and Productboard

All survey features are available on the free plan

Unlimited free seats with any plan
Disadvantages:
It's not specialized in getting employee feedback since it's focused on getting customer feedback

You need to use your email distribution tool to send email surveys besides in-product surveys. You can create your survey in Survicate, but it does not have its own way of sending emails
How much does Survicate cost?
You can start using Survicate on a free plan to test all features. The free plan comes without limitations. You can select a flexible plan between $89/m to $269/m and address any use case. See the details on Survicate's pricing page.
Who it's best for: Survicate is ideal for a business that wants to understand its customers through comprehensive product feedback via several channels.
Usersnap provides an array of tools to collect various types of feedback in one place. It's particularly handy for letting users alert you to bugs and product issues. Key features include surveys, a feedback button and menu for your web app or site, the ability to mark up screenshots to submit bugs and tickets, and even receive video feedback from users.
Advantages:
Lets you collect a variety of different types of feedback

Published feedback list allows customers to see and track their suggestions

Dashboards and reports allow you to analyze trends
Disadvantages:
Limited widget customization

Ticket filtering works but can get messy

Clients need to sign in to add and review their feedback
How much does Usersnap cost?
Prices start at $19/m for the basic plan, which gets you 2 team member seats with one feedback project. Plans go up to $149/m for 15 team members and 10 projects. There's also a custom Enterprise option and free trials for all plans.
Who it's best for:
Usersnap is ideal for the company that needs an all-in-one feedback solution, including bells and whistles like screen capture, video feedback, and video screens of user behaviour. It's particularly well-suited for identifying bugs and user issues on your website.
UserZoom is a tool for conducting customer experience research. They not only have a platform that helps you measure user experience, but also a group of experts you can consult as well as a service for recruiting participants. Key features include usability testing, interviews, surveys, and participant recruitment.
Advantages:
Enables sophisticated user research

Provides all the support you need for conducting research, including expert consultants and participant recruitment
Disadvantages:
Not easy or cheap to just send off a simple net promoter score (NPS) survey

Doesn't support languages other than English

Participant panels are unmoderated and limited to 10 people

Not all participants give valid data, and there are few methods to validate them
How much does UserZoom cost?
UserZoom is priced per user. It's not clear what the rates are because they're not published on the website; contact UserZoom for a quote. User reviews suggest it is quite expensive.
Who it's best for:
UserZoom is a complete user experience research platform. It's best for teams with large budgets who need to conduct rigorous research on how their software or app is used by customers.
UserTesting is very similar to UserZoom: it provides a platform that connects participants with companies that need user testing. UserTesting gives you a sense of how your customers will interact with your product and what they will think about it. Key features include diverse user testing panels, the ability to connect your own customers, and integrations for Slack, Jira, and Trello.
Advantages:
Quick turn-around times for research results

Provides insight on app experience, product feedback, and marketing materials
Disadvantages:
Sometimes sample sizes for particular features are very small

Audio and video quality of testers is not always good
How much does UserTesting cost?
UserTesting is priced per user. Rates are not published on the website; contact UserTesting for a quote.
Who it's best for: Companies and customer experience analysts with large budgets that need lots of user testing data quickly.
Qualaroo is a software platform that provides user and customer feedback in context. They aim to ask your users and customers questions while they're using your app or website to get you the most relevant insights. Key features include timed questions, AI-powered analytics and reports, and professionally designed templates and questionnaires.
Advantages:
In-context questions to get the most relevant data

Exit surveys help you understand customer satisfaction and the reasons behind low conversion rates

Able to collect feedback not just on your product but also on your website content
Disadvantages:
Nudges may feel intrusive to your users

Limited reporting functionality

Limited ability to segment or filter customer feedback by attribute
How much does Qualaroo cost?
Qualaroo starts at $80/m for the "Essentials" plan, which gets you one user admin and limited features. The "Premium" plan has all the features and is $160/m. There is also a custom "Enterprise" plan as well as a free plan with limited features.
Who it's best for: Qualaroo is ideal for e-commerce websites and SaaS companies that want to understand the pain points their customers have with their products and their website.
Feedier is a software platform that aims to understand product feedback from a number of angles. It easily allows you to gather contextual feedback through all your touchpoints. Key features include NPS and customer loyalty measurement, a gamified survey builder, and the ability to gather feedback from several sources, including through surveys, widgets, QR codes, social media, online reviews, text messaging, and emails.
Advantages:
It's intuitive to use and easy to set up

It covers all of the channels you might need

It has solid reporting and analytic capabilities, including the ability to create visual customer journeys
Disadvantages:
You can segment by "customer story," but few other important customer attributes

Support can take a while to respond to queries or bugs
How much does Feedier cost?
Feedier starts at $180/m for the "Pro" plan, which includes up to 3,000 pieces of feedback. There is also a custom "Enterprise" plan.
Who it's best for: Feedier is best for companies with larger budgets that want a playful way to understand what their customers think about them and that functions in a variety of channels.
Feedbackify! is a lightweight feedback form software platform that aims to provide you with real-time, actionable feedback from your website visitors. Key features include real-time data, customizable forms, and feedback category filters.
Advantages:
Easy and quick to set up

Allows your website visitors to make suggestions

An inexpensive way to understand customer satisfaction
Disadvantages:
Just focused on web visitors

Provides limited data reporting and metrics

Obtains feedback only through web forms
How much does Feedbackify! Cost?
Feedbackify is $19/m and includes a fully-featured free trial.
Who it's best for:
Feedbackify is best for e-commerce websites that are looking for a cheap and lightweight way to understand their website visitor's satisfaction and experience.
Crowdsignal's main use case is to provide polls for your website, blog, or social media profile. It gives you a quick way to see what your audience thinks about a particular topic. Key features include the ability to fully customize polls; sharing on WordPress, Twitter, Facebook, and through email; and easy data exportation.
Advantages:
Easy to build branded surveys that look great

Full control over your data with easy exports to Excel and Google Sheets
Disadvantages:
No branching or flow logic

No automations

Limited scope—focused on opinion research
How much does Crowdsignal cost?
Crowdsignal starts at $15/m for the "Premium" plan and $45 for the "Business" plan with more features. There's also a "team" option for $29/m per user. A free plan is also available.
Who it's best for:
Crowdsignal is best for social media influencers and content creators who need to be able to understand the opinions of their audience quickly and easily.
Hotjar is a behaviour analytics platform centred around a heat map feature. It lets you see exactly how your users interact with your application or website. Key features include heatmaps, video recordings of real users, incoming feedback, and a survey tool for soliciting product feedback.
Advantages:
Lots of integrations, including HubSpot CRM, Shopify, Wix, Squarespace, and WordPress

Heatmaps and video recordings allow you to visualize your user's behaviour

Allows you to see how your page or app performs on different devices
Disadvantages:
Missing some important integrations like Google Analytics

You can track funnels, behaviour, and feedback, but there's no way to track ROI or spending

Limited segmentation of users, which means it's difficult to pull insights about certain groups of users or demographics
How much does Hotjar cost?
Hotjar is priced by sessions. The "Business" lets you track 500 sessions per day and costs $99/m. The "Scale" plan lets you track 4,000 sessions and costs $389/m. They offer discounts to nonprofits and a free trial.
Who it's best for:
Hotjar is best for websites, SaaS companies, and app developers that need to be able to visualize how their users interact with a product or website.
SurveyMonkey is one of the most popular survey software tools around. It's not designed specifically for product feedback, but it is certainly flexible enough to be a useful product feedback tool. Key features include powerful skip logic and branching, easy set-up for questionnaires, and powerful analytics, including respondent sentiment analysis.
Advantages:
Hundreds of well-designed survey templates

Online surveys are easy to create and implement

Specialized products for specific uses, like experience monitoring, are available, as add-ons
Disadvantages:
Automations can be challenging to use and implement

Some of the powerful features are only available on the more expensive plans

Some types of basic data analytics aren't available
How much does SurveyMonkey cost?
SurveyMonkey charges per user and has different plans available for individuals and teams. Business plans start at $25/m per user for the "Team Advantage" plan. For more features, the "Team Premier" plan costs $75/m per user. There is also a custom "Enterprise" plan available as well as a free individual plan.
It's worth noting that quoted costs differ based on location. For example, the Brazilian SurveyMonkey site lists prices that are equivalent to roughly half of those quoted on the US site. So what it would cost you may depend on where you're located and which version of their site you sign up with.
Who it's best for: SurveyMonkey is best for larger companies with big budgets and who need to get customer feedback through surveys and not any other channels.
Note: Savio helps B2B SaaS Customer Success, Product, and Sales teams organize and prioritize product feedback and feature requests. Learn more about Savio here.
Last Updated: April 27 2023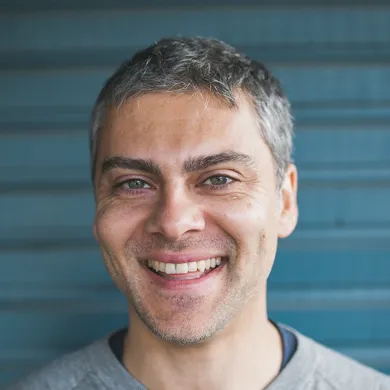 Kareem Mayan
Kareem is a co-founder at Savio. He's been prioritizing customer feedback professionally since 2001. He likes tea and tea snacks, and dislikes refraining from eating lots of tea snacks.
Make product plans with evidence, not anecdote
Centralize product feedback, enrich and prioritize it with customer data, and create evidence-based roadmaps.
For B2B SaaS Product and Success teams.
Contents
A Product Management Platform
for Customer-Obsessed Teams
SaaS teams use Savio to centralize customer feedback
and create evidence-based roadmaps