Savio helps B2B SaaS teams track customer feedback
Track customer feedback from your customer support, success and sales team and other feedback channels.
Track customer feedback from support tools, CRMs, Google docs, and more
Track customer feedback from any web based tool using out-of-the-box integrations that streamline your workflow.
Track customer feedback from any web-based tool
Purpose-built for tracking customer feedback - better than Trello or spreadsheets
Quickly centralize your customer feedback
Savio is purpose-built for tracking customer feedback, which means:
You don't leave your support tool, CRM, Google Docs, etc to track customer feedback (no digging through rows or cards to upvote the right feature)
Customer feedback is saved with the customer, account, and account properties like MRR and Plan
Triage customer feedback and link it to feature requests to you can quickly see and compare feature requests by number of requesters and total MRR
You can filter requests by people on a specific plan or who share attributes you care about (like requests from a specific geography)
You can quickly close the loop with customers when you build what they asked for
Plan your Product Roadmap from a centralized, customer-informed list of feature requests
With all your customer feedback linked to feature requests you can:
Quickly see what your most popular feature requests are
See requests sorted by cumulative customer revenue
See feature requests by a person or account
Read customer feedback verbatims about a feature
Filter and sort requests by customer attributes like Plan and MRR
Quickly identify high-priority, low-effort requests
Centralized customer feedback linked to prioritized requests makes for powerful roadmap planning
Close the loop on completed features and delight your customers
Close the loop with multiple customers in one shot
Closing the loop when you build a feature is a powerful way to delight your customers. With Savio you can:
Customer are less likely to churn when they feel like you are listening to their feedback
Delight customers by thanking them for their feedback when you ship their requests
Close the loop by sending email to multiple customers in one shot - directly from Savio
Email key requesters personally from your email client instead of through Savio
BCC your CRM so all customer communications are kept in your source of truth
Ensure customer replies to your Close the Loop email go to your support tool (or anywhere else you choose)
Use ALL your qualitative customer feedback. Build better software.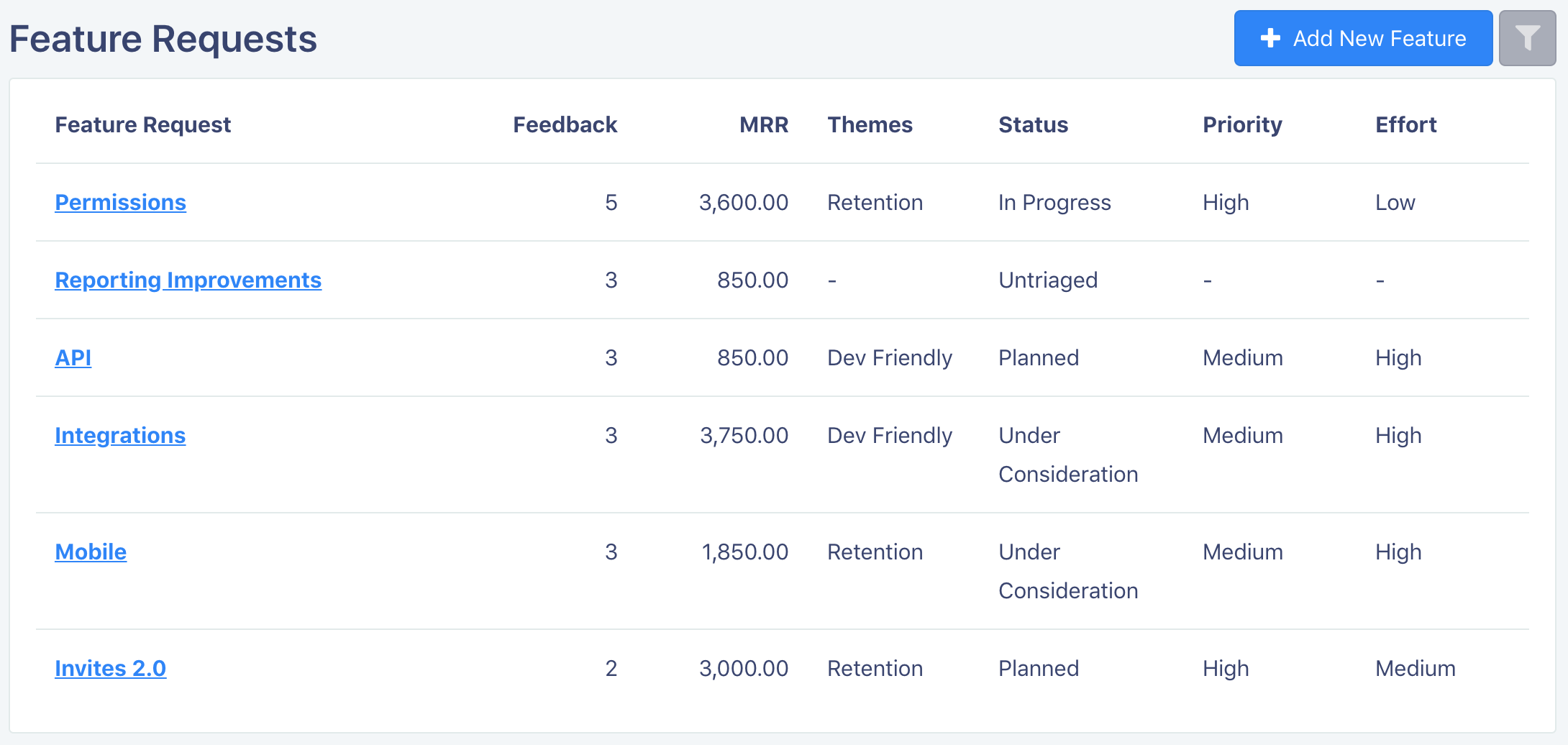 Filter your feature list by MRR, customer plan, and more
Integrates with