UserVoice pricing in 2023: how much does UserVoice cost?
Well hallelujah—UserVoice finally came clean about its pricing.
For years, they keep the cost a secret and instead direct you to chat with a salesperson. Then they would make you sit through a demo before revealing their prices. It seemed like a "if you need to ask, it's probably too expensive for you" situation.
Now we know exactly how expensive it is.
UserVoice costs:
$699 per month for the "Essentials" to log feedback—or about $8,400 per year

$899 per month for the "Pro" plan to log feedback, and a web-portal, and have an in-app feedback widget—about $10,800 per year

$1,349 per month for the "Premium" plan to log feedback and segment it—or just over $16,000 a year

Or, a custom amount for an enterprise plan
Here's everything you need to know about the cost of UserVoice in 2022.
Note: Uservoice charges $10,000+ per year and sells to enterprise companies like Microsoft. If you want better features for less, you may want to consider an alternative. With Savio you can centralize feedback from SFDC, Zendesk, Intercom, Slack, and more, prioritize features by total MRR (and more), create roadmaps, and close the loop. Get the same features as UserVoice with prices starting at $39/m. Learn more about Savio.
How much does UserVoice cost?
UserVoice Pricing in 2023
UserVoice pricing comes in three plans: Essentials, Pro, Premium, and Enterprise.
Essentials
The Essentials plan costs $699 per month, or $8,388 per year. For that you get:
200 users that can submit feedback

The ability to capture and track customer feedback

Updates to internal teams on feedback

Built-in reports and metrics
Note: For the same features, you could use Savio's Essential plan at $39/m, saving you over $9,000 per year.
Pro
The Pro plan costs $899 per month, or $10,788 per year. It gets you:
1000 users that can submit feedback

Everything in Essentials

Feedback widgets for your app and website

A web-portal

Public status updates
Note: for the same features (minus the in-app widget), you could use Savio's Essential plan at $39/m, saving you over $11,400 per year.
Premium
The Premium plan costs $1,349 per month, or $16,188 per year. It gets you:
5000 customer-facing team members that can submit feedback

Everything in Pro

Connection between feedback and your customer account data

Track feature development progress
Note: For the same features (minus the in-app widget), you could use Savio's Professional plan at $79/m, saving you over $15,000 per year. You'd also get more options for centralization.
Is there a free trial of UserVoice or discounts?
Yes, maybe. As of December 2022, UserVoice's website has a "Try for Free!" button, which looks like it could get you a free trial. But in fact, when you click it, you have to provide your details, and then choose a time to talk with Sales:
So presumably, your free trial would start after you talk to Sales.
What was UserVoice pricing in the past?
UserVoice actually reduced their price recently.
Until recently—mid 2022—the pricing was secret.
At one point, UserVoice had a free plan. They maintained it up until 2014. By the end of 2014, there was a free plan, a "Standard" plan at $20/month, an Enhanced plan that cost $55/month, and a "Professional" plan that would set you back $95/month.
UserVoice's pricing up until the end of 2014.
Their pricing seems to have shifted dramatically after they acquired Microsoft as a customer. At that point, it seems like they began to position themselves as serving larger, enterprise clients.
By mid-2015, they started offering their product for $499/month for the "Basic" plan, which gave you a feedback board for one product. Their "Premium" plan, at $999/month, allowed three product boards and some additional features. They also had a custom plan and offered a free trial.
UserVoice prices between 2014 and 2016.
In 2016, UserVoice shifted to offering a "Starter Bundle" for $199/month, and then a "Custom package" at a custom price.
UserVoice prices between 2016 and 2017.
Their prices remained at this level until they stopped publicly sharing their pricing information in 2017.
After they stopped including their pricing online, the response of a UserVoice employee on Quora makes it clear that they reverted back to $499 for one user, and $999 for five.
Later, in mid-2022, they made their pricing public again, with significantly increased prices.
Note: Tracking product feedback doesn't need to cost $15,000+ per year. Savio starts at $39 per month and you can track and prioritize product feedback, close the loop, and more. Learn more about Savio.
What do you get for that price?
UserVoice is expensive but not necessarily super sleek or powerful.
It's essentially a forum where users can submit feedback comments and upvote the comments of others. There are also some sorting features for the comments… but that's about it.
This is a screenshot of UserVoice. It essentially offers a private forum where your users can submit feedback comments and upvote others.
What do users think?
They value the ability to know what their customers want and use that to inform their products. But some of them think UserVoice is a bit outdated for the cost.
This review comes from G2. Check them out for more UserVoice reviews.
So while UserVoice can be a valuable tool, it isn't offering any special features for its higher price.
Are there more affordable alternatives to UserVoice?
Absolutely. If you're Microsoft, you might be able to afford $1,300 a month for a feedback management system without looking for better value alternatives… but virtually anyone else will probably want to get the same features as UserVoice without the massive price tag.
And those exist: there are several great alternatives to UserVoice that have the same features and cost up to 95% less.
One more affordable UserVoice alternative is Savio (pricing).
Read more: 13 UserVoice Competitors that Will Save Your SaaS Startup $17,000 a Year
But there are others. Here are some of the most popular UserVoice options—you'll notice that they're all significantly less expensive than UserVoice. Like Savio, many also have a free trial.
| | | | | | |
| --- | --- | --- | --- | --- | --- |
| Customer feedback software pricing | UserVoice | Savio | Aha! | Canny | Productboard |
| Starter Plan | $699/m for 200 submitters | $39/m for first admin, $29/m per additional admin | $59/m/user | $400/m for 5 admins, $40/mo/additional admin | $20/m per maker |
| Premium Plan | $1,349 for 5000 submitters | $79/m for first admin, $39/m per additional admin | $119/m per user | $400/m for 5 users, $40/mo/additional admin | $80 per user |
| Free trial? | Maybe | Yes | Yes | Yes | Yes |
Savio has all UserVoice's features—and then some
Savio is more affordable, but does it have the same functionality?
Yep.
Savio has a voting board
UserVoice's big claim to fame was a board where users could post their product ideas and vote on other people's ideas. Savio has a voting board, too.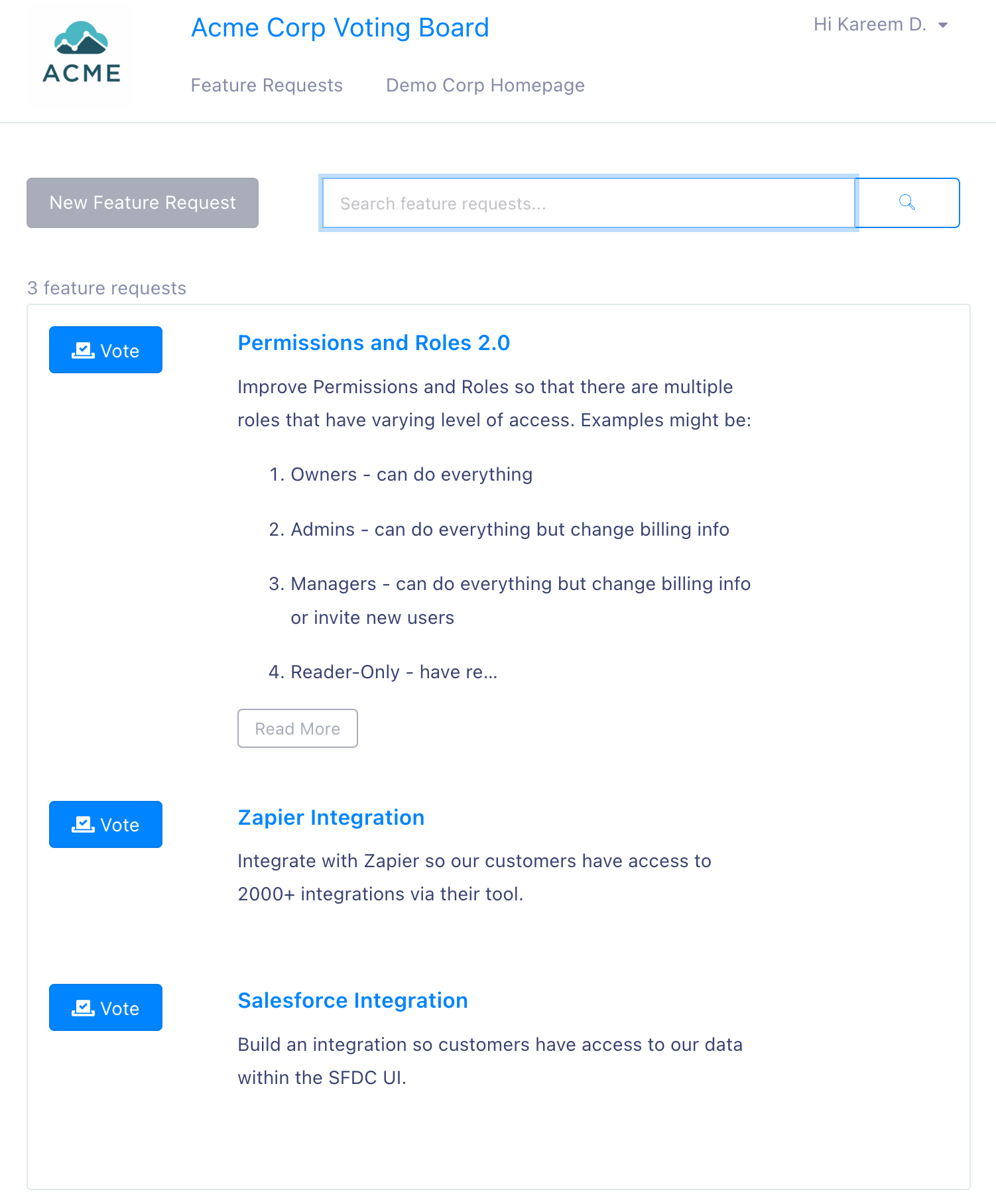 Savio's voting board lets your users add and vote on feature requests.
It's actually better because we've included a number of voting board features that prevent bias, like the ability to hide the number of upvotes and randomize the order of features in the list.

You can randomize the order of feature requests or hide upvote counts to minimize bias in your feedback data.
These features, along with the ability to make posts public or private, help you avoid some of the pitfalls of feature voting boards.
Savio centralizes feedback in one place
While Savio offers a voting board, you don't have to use it. Instead, Savio has a feedback vault where all your feedback is collected.
UserVoice collects feedback from: Slack, an in-app feedback widget, a sidebar, and an API.
Savio collects feedback from: Slack, Intercom, Zendesk, Help Scout, Salesforce, Hubspot CRM, any app that connects with Zapier, our Chrome extension, email, our API, and a ton of others (see all integrations).
Savio's like a Swiss army knife—it can connect to any channel where you get feedback. UserVoice is more limited.
Savio helps your identify and prioritize high-impact features
One feature that sets UserVoice apart from its competitors is allowing you to filter feedback and feature requests by account segments. The connection between your account data and feedback is powerful—and that's why you need to be on the Premium plan (at $1,349 per month) to get the feature.
Savio also lets you filter by customer data and attributes in exactly the same way.
For example, we make it simple for you to filter and sort feedback to understand:
What your highest MRR customers think of your product

What features your churned customers were asking for

What feedback prospects are leaving for your sales team

What customers on your free plan say they would pay for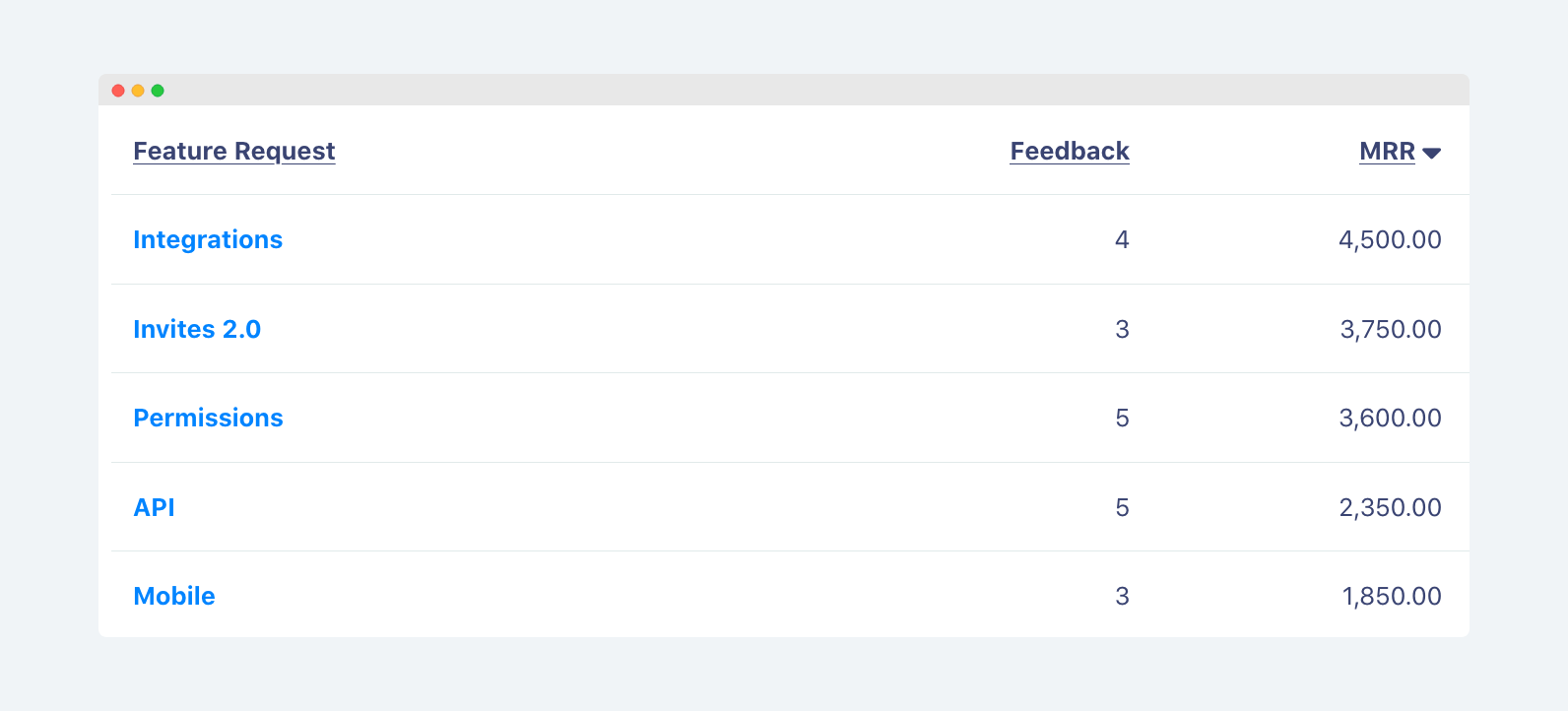 Savio lets you filter and sort feedback and feature requests. Here, we've filtered to find features with cumulative MRR higher than $1,500 and sorted so the highest value feature is at the top of the list.
This allows you to find the most impactful features so you can prioritize product features, make changes to your service, or train customer support people based on better customer insights.
Keep everyone in the loop with customized roadmaps
UserVoice has a roadmapping feature, but it's just internal. You can't share it with customers.
Savio lets you build roadmaps too, including as much or as little information on it as you want. You can also build different versions—one to align your internal teams, and another to share with your customers.
Savio roadmaps are kanban-style boards. You can add as many list stages as you like and customize the names.
Savio unites your team around your customers
UserVoice lets you share product updates with internal stakeholders.
So does Savio. Share customer feedback so everyone's on the same page.
Or, set up the Slack integration to automatically post feedback updates to a Slack channel.
Sharing with your team provides better visibility into your customer needs and makes it easier to advocate for or justify roadmap decisions.
Savio empowers you to close the loop
UserVoice gives you the power to talk directly to customers to clarify their feedback or close the feedback loop.
Savio does this too. It's easy to follow up with customers when you build a feature they ask for with the close-the-loop feature. You can do it in just a few clicks.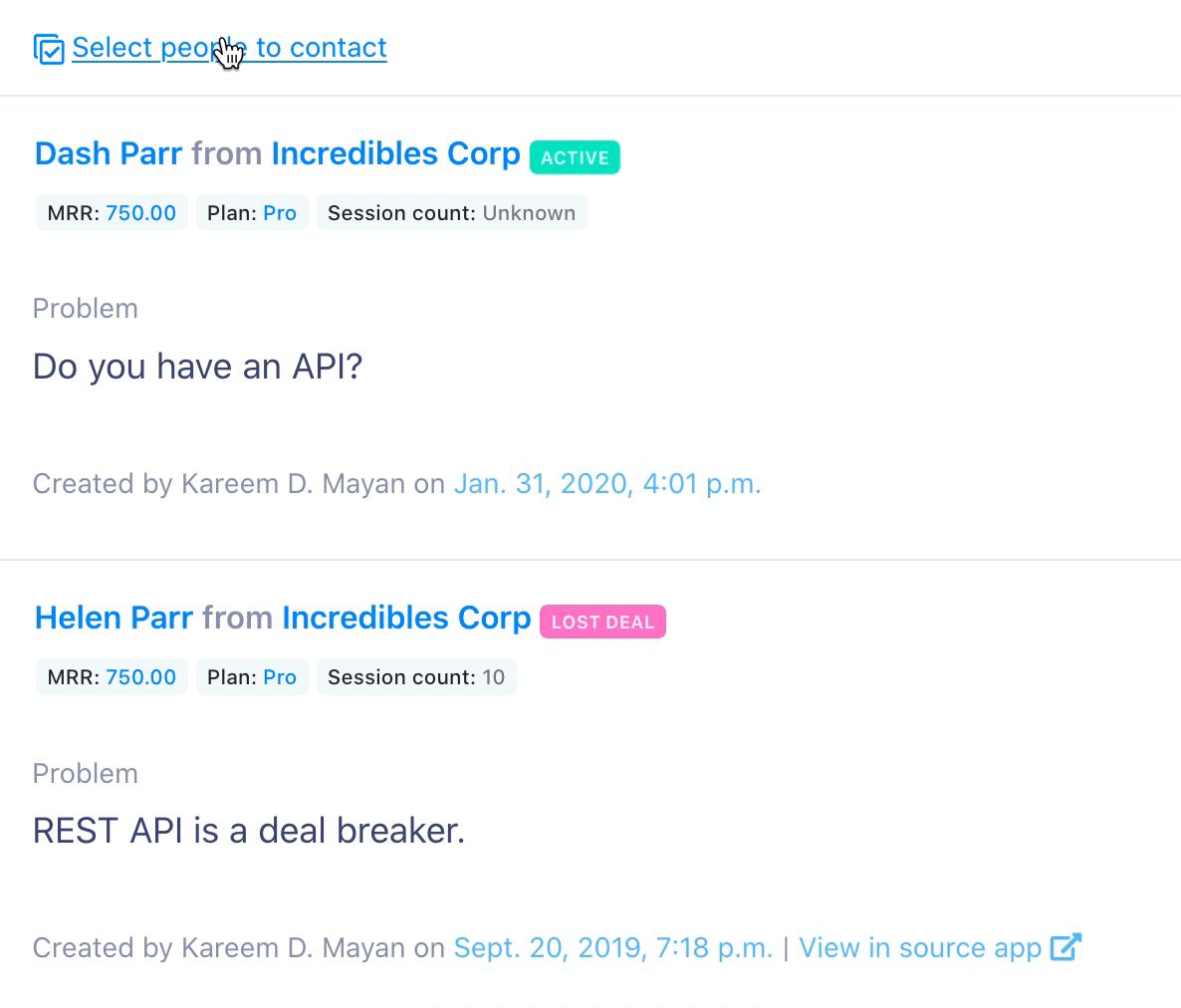 The takeaway: UserVoice pricing positions them for Enterprise clients
UserVoice's pricing strategy and selective demo process is intentional: it helps them focus on acquiring Enterprise clients.
If you're a massive company looking for feedback management software and you don't mind shelling out big bucks (even despite better value alternatives), UserVoice might be right for you.
But if you're in the small- or medium-sized categories, UserVoice may be too expensive for the value it provides. And even if you're an enterprise client, you still may prefer an option that has the same features but costs significantly less.
Luckily there are more affordable options that are happy to work with companies of all sizes. If you're looking for a robust feedback management software platform that's easy to use and just works, check out Savio.
Savio offers virtually identical features and could save you over $15,000 each year.
Note: Find out more about how Savio compares to UserVoice here, or learn more about using Savio to track feature requests here.
(Thanks to the following articles for providing the information that we used to build this article.)
Learn more about UserVoice
Read next: How to find the best product management tools
Last Updated: 2023-04-27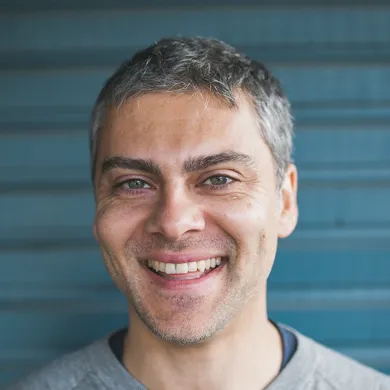 Kareem Mayan
Kareem is a co-founder at Savio. He's been prioritizing customer feedback professionally since 2001. He likes tea and tea snacks, and dislikes refraining from eating lots of tea snacks.
Make product plans with evidence, not anecdote
Centralize product feedback, enrich and prioritize it with customer data, and create evidence-based roadmaps.
For B2B SaaS Product and Success teams.
Contents
A Product Management Platform
for Customer-Obsessed Teams
SaaS teams use Savio to centralize customer feedback
and create evidence-based roadmaps