ProdPad vs ProductPlan Comparison: Which Product Management Tool is Better?
ProdPad and ProductPlan are both robust software tools for roadmapping and product development. They help your product team coordinate software development, prioritize new features, and align your team around a single product vision.
Is one better than the other for your product development process?
Here is the high-level difference:
ProdcutPlan is just a roadmapping tool. You can use it to create a variety of roadmaps from user experience to HR to marketing roadmaps. It doesn't collect feedback, but it can help you prioritize features and connect with your development tool stack.

ProdPad is a more complete product development tool. Its pricing scales, so it's more friendly to smaller companies. It's also particularly good at syncing up with your Dev team. It collects feedback and is better at closing the feedback loop. Its roadmaps are a lot simpler, though.
This article presents a full comparison of ProductPlan and ProdPad so you can find the tool that'll work best for you.
Note: Savio is another product management tool specifically aimed at helping B2B SaaS companies build better software via product feedback. You can use our tool in place of both ProdPad and ProductPlan, but we promise not to let that bias this article 😉.
Feature comparison: ProductPlan vs. ProdPad
Here's a high-level comparison of ProdPad and ProductPlan features. A more in-depth discussion is added below.
(Quick disclaimer: This list was accurate when we wrote it, but features change over time. If you see something that isn't quite right, send me an email and I'll fix it.)
| | ProdPad | ProductPlan | Savio |
| --- | --- | --- | --- |
| Centralize feedback | | | |
| Public feedback board | ✅ | ❌ | ✅ |
| Feedback board is optional | ✅ | ❌ | ✅ |
| Make feedback board private | ✅ | ❌ | ✅ |
| Hide feature vote counts | ✅ (They stay hidden) | ❌ | ✅ |
| Randomize feature order | ❌ | ❌ | ✅ |
| Collect feedback from Intercom | ✅ | ❌ | ✅ |
| Collect feedback from Zendesk | ❌ | ❌ | ✅ |
| Collect feedback from Salesforce | ✅ | ❌ | ✅ |
| Collect feedback from HubSpot CRM | ❌ | ❌ | ✅ |
| Collect feedback from Help Scout | ❌ | ❌ | ✅ |
| Collect feedback from Slack | ✅ | ❌ | ✅ |
| Collect feedback from Doorbell | ✅ | ❌ | ❌ |
| Collect feedback from Confluence | ✅ | ❌ | ❌ |
| Collect feedback from Chrome extension | ✅ | ❌ | ✅ |
| Forward feedback via email | ✅ | ❌ | ✅ |
| In-app feedback widget | ✅ | ❌ | ❌ |
| Zapier connection | ✅ | ✅ (It doesn't let you collect feedback) | ✅ |
| API | ✅ | ❌ | ✅ |
| Analyze and prioritize | | | |
| Link feedback with account data | ❌ | ❌ | ✅ |
| Feedback segmentation | ✅(Only by customer, company, or persona) | ❌ | ✅ |
| Sort by MRR impact | ❌ | ❌ | ✅ |
| Prioritize features | ✅ | ✅ | ✅ |
| Integrate with Segment | ❌ | ❌ | ✅ |
| Roadmaps and development | | | |
| Build visual internal roadmaps | ✅ | ✅ | ✅ |
| Build visual public roadmap | ✅ | ✅ | ✅ |
| Integrate with Jira | ✅ | ✅ | ✅ |
| Integrate with Shortcut | ❌ | ❌ | ✅ |
| Integrate with GitHub | ✅ | ✅ | ❌ |
| Integrate with Azure DevOps | ✅ | ✅ | ❌ |
| Integrate with Microsoft Teams | ❌ | ✅ | ❌ |
| Integrate with Confluence | ❌ | ✅ | ❌ |
| Integrate with Pivotal Tracker | ✅ | ✅ | ❌ |
| Integrate with Trello | ✅ | ✅ | ❌ |
| Integrate with Rally | ✅ | ❌ | ❌ |
| Communicate with customers | | | |
| Send updates to customers | ✅ | ❌ | ✅ |
| Personalized close-the-loop message | ❌ | ❌ | ✅ |
| Pricing | | | |
| Free trial? | ✅ | ✅ | ✅ |
| Price range | $72/m/editor to $116/m/editor | $39/m/editor to $69/m/editor | $23/m/editor to $79/m/editor |
| Annual cost for 5 PMs | $5,040 | $2,340 | $2,820 |
| Annual cost for 15 PMs | $15,120 | $7,020 | $7,500 |
So what does that actually mean? Here are what those different features would mean for your team.
ProductPlan vs. ProdPad—What are the differences?
To evaluate these tools, we've come up with the following criteria for what a good product management tool would do.
Centralization: Collect feedback and new feature ideas from any channel

Prioritization: Help you analyze features to decide which ones to build next

Communication: Empower you to communicate your strategy to stakeholders and customers, including through product roadmapping

Coordination: Coordinate the development process with your dev team

Close the feedback loop: Follow up with customers when you build their feature

Value: More features, fewer dollars (or pounds or euros)
Here's how ProductPlan and ProdPad stack up for each of those tasks.
1. Centralization
Your user feedback comes in from everywhere—customer support, your Sales team, social media, etc. A good PM tool will gather that feedback and collect it in a single place for you to analyze.
Voting boards: One common way to collect customer product feedback is with a feature voting board.
ProdPad's voting board tool is quite different from most other feature voting tools. Rather than a permanent page that customers can visit, ProdPad shows up to 9 ideas to customers after they enter feedback through an in-app widget. Customers have the chance to vote for those ideas, but not any others.
ProdPad's voting boards displays 9 potential features that customers can vote for. The features display only after a customer adds a new idea.
Savio also has a voting board that is much more similar to other tools. It's a permanent page that has a list of features that customers can upvote. They can also submit their own new feature ideas. Savio's voting board is designed to minimize bias because it can hide vote counts (eliminating the bandwagon bias effect) and also randomize the feature voting list (reducing order bias effects).
Savio's voting board is optional and can be configured to minimize bias by hiding vote counts and randomizing the feature list.
ProductPlan doesn't have a voting board. It doesn't have any mechanism to collect feedback.
Integrations: ProdPad has integrations to collect feedback from 5 different tools. It also connects to Zapier, which enables it to connect to many other apps, too.
Savio connects to 6 apps for collecting feedback—Intercom, Help Scout, Zendesk, Slack, Salesforce, and HubSpot. It also connects to Zapier.
ProductPlan doesn't have any integrations for feedback.
Other channels: ProdPad can accept feedback through email, has an in-app widget, offers feedback forms, and has an API. It also has a Chrome extension that lets you collect feedback from any web-based tool.
Savio is similarly flexible, allowing you to forward emails to your feedback inbox or use an API. It also has feedback forms and a Chrome extension that lets you receive feedback from any web-based app.
Again, ProductPlan doesn't have any way of collecting feedback.
Overall: ProdPad is much better for feedback collection than ProductPlan. Savio is even better because it has more integrations with the apps your teams use to receive feedback.
2. Prioritization
Once you've got your backlog of product ideas, you need to decide which ones are most important so you focus your resources on building them.
ProdPad: ProdPad's prioritization framework is pretty standard: it lets you rank each feature on impact and effort on a scale from 0 to 100. Those scores then are used to create a total score where higher scores indicate higher priority. You can also view each feature's score on a chart, which is handy. You can also build it into an OKR framework if that's useful to you.
ProdPad's priority scoring scales.
Finally, ProdPad advertises an AI bot that can also help you surface insights somehow (in our testing of the tool, we didn't see how to use that or how it would be useful… but maybe it's great).
One critical piece of prioritization is segmentation—ideally, you'll be able to slice and dice your feedback to find the highest-impact features for customer segments that matter to you. ProdPad technically does have segmentation, but only for more general variables like customer, company, and "personas" (which you would specify). You can't segment by more targeted customer attributes like MRR, plan type, company type, and so on.
ProductPlan: ProductPlan's prioritization framework is very simple. You score the feature on value and effort. It then calculates a total score, which you can use to prioritize. ProductPlan doesn't let you segment by customer type, and you can't use your customer attributes to help you prioritize features.
ProductPlan's feature scoring card.
Savio lets you easily prioritize features with scores for value, effort, and a host of other attributes that you can customize. It's also very easy to filter and sort your feature requests to see things like:
What features have the highest cumulative MRR

What features your enterprise clients want

What features are trending

What features your prospects are asking for
And many more.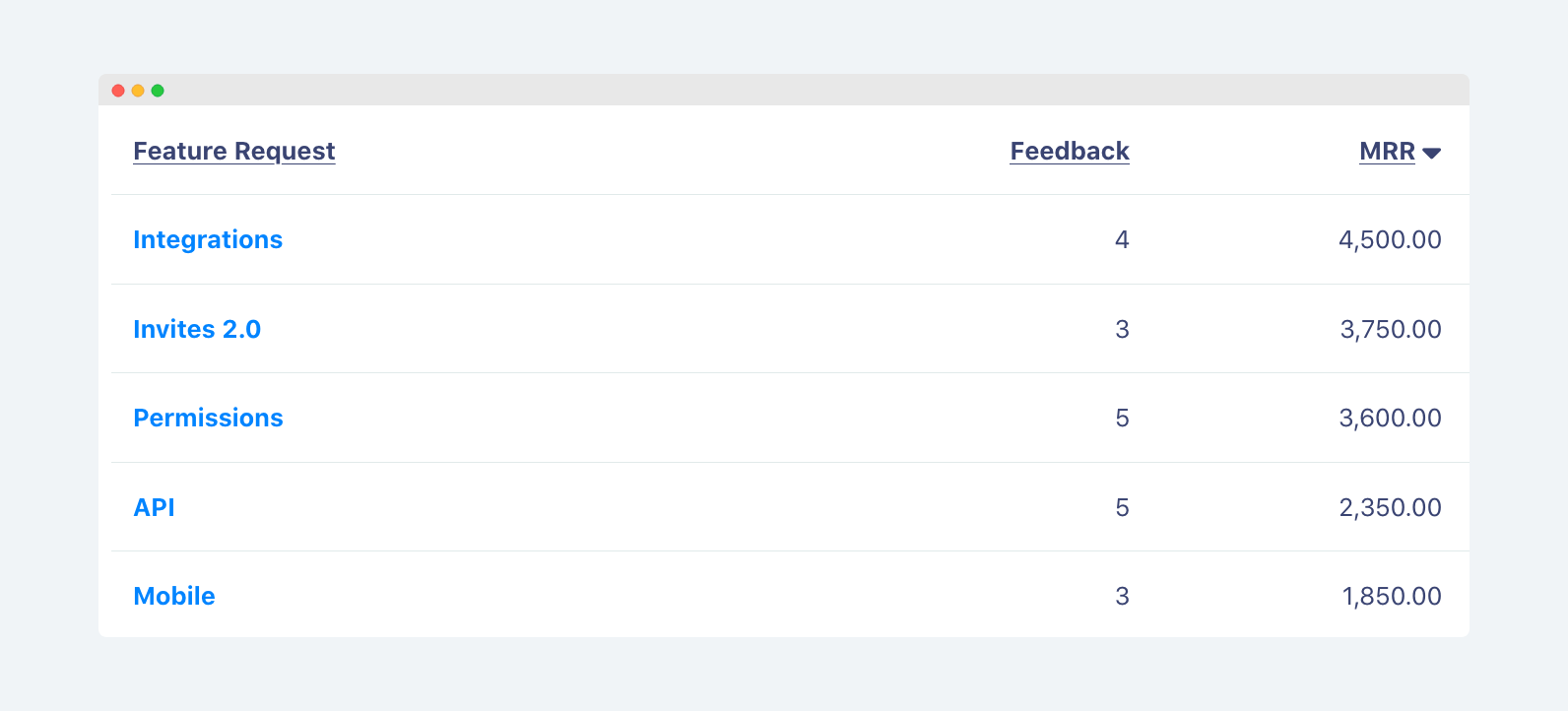 With Savio, you can quickly sort by MRR to find your most valuable features.
It can also pull customer attributes from more apps than just Salesforce, including HubSpot, Zendesk, HelpScout, and Intercom.
Overall: ProdPad has a more advanced prioritization framework than ProductPlan, including some basic segmentation. Savio's is even better because its segmentation engine is more powerful and can pull in customer data from a number of different apps.
3. Communication and team alignment
Once you have your product strategy firmed up, you'll want to get all your teams on the same page and align them on a unified product vision.
Roadmap software: This is where ProductPlan really shines. It has a ton of features that let you build a variety of roadmap types for any use case. It's got lots of templates and offers advanced features like swim lanes, milestones and goals, dependencies, and more. It also offers a number of layouts, from table views to Gantt charts to Kanban boards.
Another useful feature is custom views. These let you change how a roadmap appears for different audiences—execs, your product team, and even your customers.
ProductPlan roadmaps are complex and flexible with lots of features.
ProdPad's roadmaps are very basic. They have three categories: next, now, and later. Each feature goes in one of those categories to show your customers or your internal teams your rough product strategy.
Screenshot of a ProdPad roadmap—a list of features categorized by status: Now, Next, and Later.
Savio's roadmaps are super flexible—you can fully customize them, including as many or as few features as you need to suit your audience. They also are unique in that they display evidence to justify your product decisions.
For example, you can quickly see the number of requests for a feature or each feature's cumulative MRR. That helps reduce disagreement (or conflict) about roadmapping decisions.
Savio roadmaps display feedback data so you can help others understand why you made your product decisions (and minimize roadmap disagreements).
Other communication tools: ProdPad, ProductPlan, and Savio all let you post automated updates on feedback and roadmaps to a dedicated Slack channel. ProductPlan also lets you post to Microsoft Teams about roadmap changes.
Overall: ProductPlan has the most advanced features here, and we like the UI a bit better. Savio comes next. ProdPad's are the most basic and least flexible.
4. Coordination with development
Next, your feature list goes to the engineering team. Ideally, your PM tool will sync with the project management tool used by your devs, so you can follow each feature as it's built.
ProdPad connects to 7 development tools: Jira, GitHub, Azure DevOps, Pivotal Tracker, Rally, Team Foundation Server, and Trello.
ProductPlan is second, with 6 integrations: Jira, Azure DevOps, GitHub, Pivotal tracker, Trello, and Confluence.
Savio integrates with 2 tools: Jira and Shortcut.
Overall: ProdPad wins because it has the most integrations. ProductPlan comes second. But obviously, the best one for you depends on the tool your teams use. For example, if you use Shortcut, Savio would be the best choice.
5. Close the loop
Closing the feedback loop is about following up with customers when you build a feature they asked for.
ProdPad: ProdPad closes the feedback loop by sending automated emails to all the customers that have voted on a feature. Note that these notifications aren't personalized—the same stock email goes to everyone.
ProductPlan: Product Plan doesn't have a system for closing the loop with customers.
Savio: Savio lets you send personalized close-the-loop emails. You create a template email and then you can send it to any of the customers that you'd like to. Importantly, you can send messages to some people and not others. This is handy, for example, if you want to send a different message to your active customers than your prospects or churned customers.
Overall: ProdPad is better than ProductPlan because it has notifications. Savio is the best, though, because it lets you personalize your close-the-loop messages.
6. Value
What does each tool cost?
ProdPad Pricing: ProdPad's pricing model lets you choose sets of feature modules a la carte. That gives you a bit more flexibility in case you just need the roadmaps features, the ideas features, or the feedback features.
To get the basic features needed to collect feedback, segment the data, create a roadmap, and close the loop, you'd need Roadmaps Essentials ($24/editor/month), Ideas Essentials ($24/editor/month) and the Feedback Advanced ($36/editor/month) plans. The total for those plans together would be $84/editor/month.
Assuming a team of 5 PMs, you'd pay $5,040 per year.

Assuming a team of 15 PMs, you'd pay $15,120 per year.
Screenshot of ProPad's pricing plans.
ProductPlan pricing: ProductPlan's pricing is quite simple. You're looking at $39/month/editor for the Basic plan and $69/month/editor for the Professional plan. Most companies will probably only need the Basic plan. So:
A team of 5 PMs would pay $2,340 per year

A team of 15 PMs would pay $7,020 per year
A screenshot of ProductPlan's pricing page.
Savio pricing: Savio is the best value of the three.
A team of 5 PMs would cost you $2,820

A team of 15 PMs would cost you $7,500